Garuda Indonesia expects to wrap up restructuring by the end of the year, amid an improvement in its operating outlook.
In a statement issued 20 October, the airline adds that its target follows approvals for its restructuring plan, including on debt reconciliation, capital increase, as well as state equity participation.
Airline chief Irfan Setiaputra says that a post-restructuring Garuda will be "more adaptive, agile and competitive", which will allow it to "better face business challenges in the future".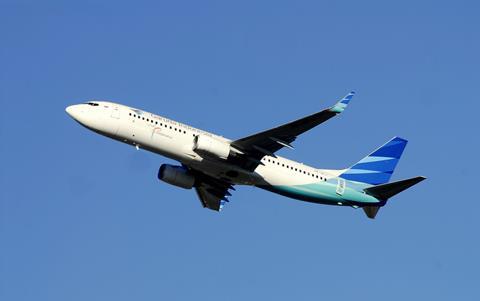 Garuda entered restructuring during the pandemic, amid mounting financial woes compounded a collapse in passenger traffic.
In the longer term, Setiaputra is also hopeful that the airline will continue to be profitable. Garuda swung back to profitability for the first-half of the year, on the back of significant income gained from its debt restructuring.
"We are optimistic that Garuda can continue [to take] advantage of the momentum of performance recovery, to become an airline…with a more solid base of profitability for business performance," says Setiaputra, who outlines opportunities in the near-term such as cargo and other ancillary revenues.
Among its priorities now include fleet rationalisation, as well as working on "synergising" operations between mainline operator Garuda and low-cost unit Citilink.
Garuda will end the year with 61 aircraft, with Citilink flying 58 jets, according to earlier fleet plans.
The airline is also working through network recovery, with a target of 2.7 million seats on offer by the year-end, a figure Setiaputra reiterates in his latest comments.