The Canadian government has approved Air Canada's takeover of vacation specialist Transat AT, subject to numerous conditions.
The two companies, which announced the deal in August 2019 and had planned for the transaction to close in mid-2020, clear a major hurdle with the government approval, but are still awaiting a verdict from European regulators before they can proceed.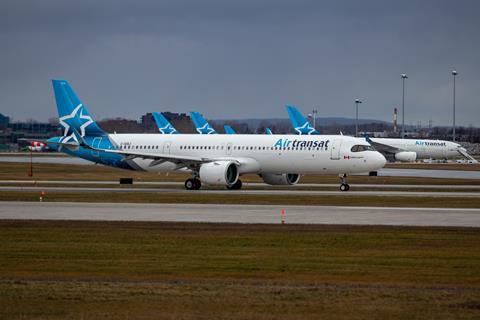 Since then, the coronavirus has disrupted the aviation industry worldwide, and the precipitous decline in business prompted Air Canada last October to slash the price it was willing to pay for its Montreal-based peer to C$5 ($3.94) per share from its original offer of C$18 per share. Transat's shareholders overwhelmingly approved the new offer in December, seeing it as a lifeline for the ailing company.
The deal was set to expire in four days, on 15 February.
"Given the devastating impact of the Covid-19 pandemic on the air industry, the proposed purchase of Transat AT by Air Canada will bring greater stability to Canada's air transport market," the country's minister of transport Omar Alghabra, says on 11 February. "It will be accompanied by strict conditions which will support future international competition, connectivity and protect jobs. We are confident these measures will be beneficial to travellers and the industry as a whole."
Some of those conditions imposed by the government include maintaining the head office and brand in the French-speaking province of Quebec, as well as 1,500 jobs, a commitment to maintain the airline's aircraft in Canada (preferably in Quebec), the launch of new destinations within the first five years, and what the government calls "a price monitoring mechanism".
In addition, the airline must "facilitate and encourage other airlines to take up former Transat AT routes to Europe". This seems to imply that Transat will be giving up its transatlantic routes as part of the deal. Prior to the pandemic, Air Transat was flying to France, Portugal, Spain and the UK.
Neither Transat nor Air Canada immediately responded to requests for comment on the decision.
The acquisition, the government says, "offers the best probable outcomes for workers, for Canadians seeking service and choice in leisure travel to Europe, and for other Canadian industries that rely on air transport, particularly aerospace."
With today's approval by Canadian competition authorities, the airlines are now waiting for the European Commission to give its blessing to the tie-up.