The government of Canada has said it is considering financial aid for that country's aerospace industry, as the coronavirus crisis drags on.
Marc Garneau, Canada's minister of transport, says on 8 November that discussions about a potential bailout package could begin as early as the coming week.
"To protect Canadians, the government of Canada is developing a package of assistance to Canadian airlines, airports and the aerospace sector," Garneau says. "As part of this package, we are ready to establish a process with major airlines regarding financial assistance which could include loans and potentially other support to secure important results for Canadians."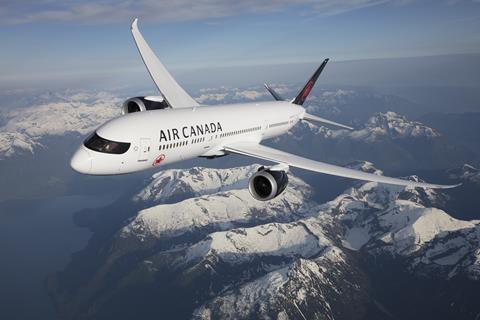 Executives in the country's aviation industry have in the past months repeatedly called on lawmakers to provide financial support similar to aid that was enshrined in the US CARES Act, or that the governments of France and Germany provided for their respective nations' aviation sectors to help them manage through the pandemic.
Earlier this year, Canada established the "Canada Emergency Wage Subsidy", but industry leaders have said that more aid is needed to help make up for the strict travel restrictions the country has had in place since March, which has severely hampered the industry's and the wider economy's recovery.
The longest peaceful border in the world, between Canada and the United States, has been effectively sealed for non-essential travel since 21 March. That closure has been repeatedly extended, and is currently scheduled to end in two weeks.
The National Airlines Council of Canada, which represents the country's largest carriers Air Canada, Air Transat, Jazz Aviation and WestJet, welcomes the plan, saying the industry has already taken "all measures" to reduce costs, and that the federal aid is desperately needed. Canadian carriers have already laid off thousands of employees due to the sharp decline in passenger demand.
"We are encouraged by the government's decision to work with carriers to try and stabilise the sector," Mike McNaney, the trade group's chief executive, says on 8 November. "The industry will not recover without strong federal leadership."
Air Canada chief executive Calin Rovinescu has been a particularly vocal critic of the Canadian government for maintaining the travel restrictions – including a mandatory 14-day quarantine for all travellers arriving in the country – but making no effort to alleviate the airlines' financial difficulties.
Montreal-based Air Canada reported a stunning C$1.8 billion ($1.5 billion) loss during the second quarter of the year, during which it transported just 4% of passengers carried during the same period in 2019.
The airline reports third quarter results on 9 November.
In October Calgary-based WestJet indefinitely cut some of its routes to the far eastern region of the country, and reduced frequencies to other cities in Atlantic Canada as a result of ongoing lack of demand due to the travel restrictions. In response to the government's statement, WestJet says it will "await greater clarity on what support for the aviation sector might include".
In addition, smaller communities across the vast country that spans six time zones have suffered reductions in air connectivity to Canada's larger cities.
"Regional connectivity is important to Canadians travelling now and in the future," says Garneau. "We will ensure Canadians and regional communities retain air connections to the rest of Canada, and that Canadian air carriers maintain their status as key customers of Canada's aerospace industry."
He adds that any assistance "will come with strict conditions to protect Canadians and the public interest."
That includes refunding customers who booked travel but have been locked out of getting refunds for their cancelled travel plans.
"When this unprecedented pandemic broke out in the spring, Canadians who had already booked travel ended up stuck with vouchers for trips they could not take instead of getting refunds," he says. "Before we spend one penny of taxpayer money on airlines, we will ensure Canadians get their refunds."