The Competition Bureau of the government of Canada says it has "competition concerns" about the planned takeover of Transat by Air Canada, which could be detrimental to Canadian travelers going to sun destinations as well as Europe.
"The Competition Bureau announced today it has concluded that Air Canada's proposed acquisition of Transat is likely to result in a substantial lessening or prevention of competition in the sale of air travel or vacation packages to Canadians," the watchdog body says on 27 March.
"Eliminating the rivalry between these airlines would result in increased prices, less choice, decreases in service and a significant reduction in travel by Canadians on a variety of routes where their existing networks overlap."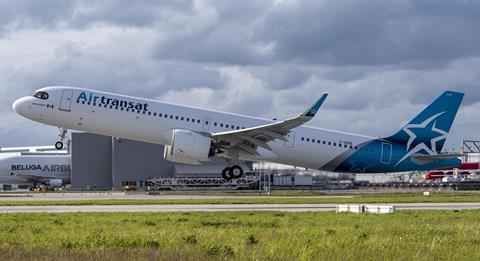 The Competition Bureau says that after an examination of the two airlines' routes it determined that the merger would apply to 83 overlapping routes: 49 between Canada and Europe and 34 between Canada and traditional vacation destinations in Florida, Mexico, Central America and the Caribbean. The transaction would represent a merger of the only two carriers offering non-stop service on 22 of these routes.
Montreal-based Air Canada says that it will review the findings "in due course". It is currently busy dealing with the effects of the coronavirus on its business, and repatriating Canadian citizens.
Transat, which is also headquartered in Montreal, could not be immediately reached for comment. Transat is the parent company of holiday specialist carrier Air Transat and operates a sizable vacation package business.
Last August, Transat's shareholders voted overwhelmingly in favour of Air Canada's C$720 million ($513 million) takeover bid for the company. That calculates out to C$18 per share. Both entities had said they had expected the transaction to close in the second quarter of 2020, but now that looks less likely.
The transaction, if approved, would merge the number one and number three airlines in the Canadian market. Earlier this year, WestJet, the country's second-largest carrier, said it was "watching with great interest" to see if the deal would be approved.
"When a proposition comes along that threatens to reduce competition, we will take an active interest in what that might mean," WestJet's chief executive Ed Sims told FlightGlobal in February.
The Competition Bureau says its assessment was made prior to the coronavirus pandemic, which, it adds, may have significant long-term impact on the airline industry in Canada.
"The ultimate impact of these events may be relevant to the Bureau's views on the proposed transaction but it is impossible to know the full extent and duration of any impact at this time," the bureau writes.
Transport Canada says it will complete its public interest assessment by 2 May, and will make a recommendation to the Minister of Transport as to whether or not the transaction should be completed.