Canadian discount start-up Canada Jetlines has again pushed back its planned start of passenger flights, this time by about three weeks, until 22 September.
The Vancouver-based company has also changed its first route to between Toronto Pearson International airport and Calgary International airport, the airline says on 26 August.
Jetlines has pushed back its expected launch date countless times. Most recently, in early August, it delayed its start from 15 August to 29 August.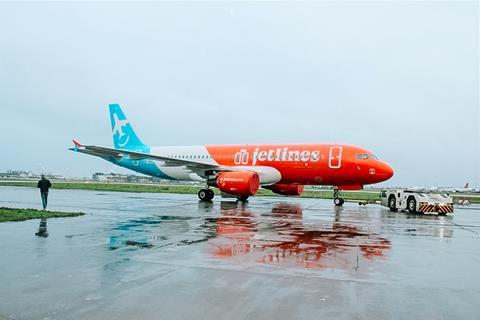 In early August, Jetlines planned to begin service with two routes: from Toronto to both Winnipeg International airport in Manitoba and Greater Moncton Romeo LeBlanc International airport in New Brunswick.
Then, on 18 August, Jetlines received its air operating certificate from Canadian aviation regulators, clearing a major hurdle to getting off the ground.
Jetlines is now only selling seats on Toronto-Calgary flights, according to its website.
The airline tells FlightGlobal it pushed back its launch until 22 September due to "delays in acquiring" the air operating certificate. "Once secured, Canada Jetlines [was] able to confirm a new inaugural flight date," the company says.
It does not say why it altered its launch routes.
The carrier plans to operate the initial Toronto-Calgary route twice weekly, on Thursdays and Saturdays, it says on 26 August. Jetlines plans to increase flights on the route to three-times weekly starting 13 October.
Jetlines has one Airbus A320, in storage, according to Cirium fleets data.