Canada's second- and third-largest passenger carriers, WestJet and Air Transat, have entered into a codeshare agreement for transatlantic travel.
The airlines say on 19 November that customers can now book travel to Europe involving both companies on a single ticket, which will enable them to also seamlessly check bags to final destinations.
"This agreement is a first milestone in our strategy to grow and strengthen our network through alliances," says Montreal-based Transat's chief executive Annick Guerard. "It will create great opportunities for our existing and future customers, who are looking to connect between North America and Europe, and will enhance our longstanding presence on the transatlantic market."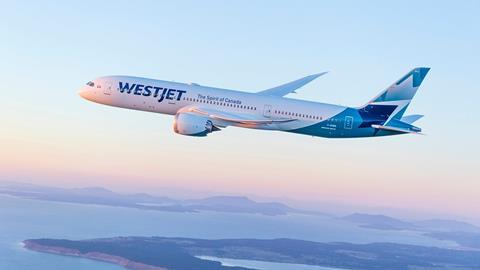 The companies say that from "early 2022", and pending regulatory approval, WestJet's code will be placed on Air Transat flights to some cities in Europe, and Air Transat's code will be placed on some WestJet flights in North America.
"Confidence in travel is building and this new transatlantic cooperation will allow WestJet to offer even more destinations to travellers, connecting North America and Europe in new ways, and benefiting guests on both sides of the Atlantic," adds WestJet chief executive Ed Sims.
Earlier this year, Transat's Guerard told FlightGlobal the airline was looking to partner with other carriers to extend its reach beyond existing destinations in Europe, the Caribbean and Mexico.
Transat's leadership team, she said at the time, had "clearly understood the limitations of operating in isolation". So, the company was searching for fruitful alliances that could give it quick wins – and potentially be expanded into larger collaborations.
In April, a potential merger between Air Transat and its Montreal-headquartered competitor Air Canada was scrapped due to regulatory issues.
Since then, Air Transat has been rebuilding on its own after a brutal year-and-a-half during which it effectively shuttered twice following government-imposed travel restrictions designed to mitigate the spread of Covid-19.
Transat reports fiscal fourth-quarter results on 9 December.