WestJet, Canada's second largest airline, says it is "not actively pursuing financial support from the federal government" to help it navigate through the Covid-19 crisis.
"The WestJet Group and the government of Canada have had constructive discussions over the last several months," the Calgary-based airline says on 20 July. "Given encouraging vaccination rates across the country, both parties have mutually agreed to shift focus from these negotiations, and away from taxpayer-funded support, to leading the safe restart of the travel and tourism sector."
The airline says, however, that the two parties "remain open to resuming financial support discussions in the future".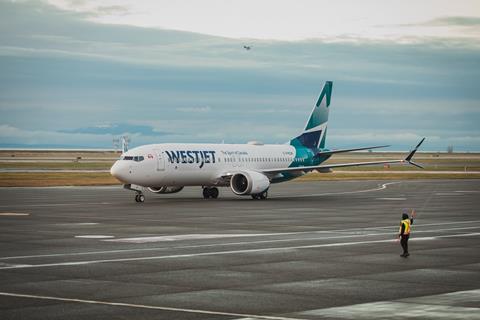 Since the beginning of the coronavirus health crisis in early 2020, the government of prime minister Justin Trudeau was reluctant to set aside sector-specific aid for the aviation and aerospace industry.
Only in April 2021, more than a year after the World Health Organization (WHO) declared a global pandemic, did the government of Canada begin to provide relief to the airlines. It took an equity stake in legacy carrier Air Canada after the company struck a C$5.9 billion deal for financial support.
The Montreal-based carrier said it accepted "a series of debt and equity financing agreements", essentially the bailout that the airline had been requesting for months, as travel restrictions continued to tear into its business, and hamper a sustainable air travel recovery in that country.
Three weeks later, Transat AT, the Montreal-headquartered parent company of vacation specialist Air Transat, said that it was taking $700 million in government support to help it maintain liquidity as it ceased operations due to Ottawa's strict coronavirus mitigation rules. Transat expects to resume operations later this month.
Canada has had some of the strictest and longest-running travel restrictions in place for months. These included a 14-day mandatory quarantine for all returning citizens and permanent residents, the first three days of which were required to be spent in a government facility at the travellers' own cost.
The quarantine for fully vaccinated Canadians was ditched on 5 July in favour of a more rigid testing programme.
On 19 July the Trudeau government announced additional moves to re-open the country to tourism.
Canada will once again allow vaccinated US leisure travellers to enter the country on 9 August, almost 17 months after the border between the two nations was effectively sealed for non-essential travel. Other fully-vaccinated international travellers will be permitted to enter from 7 September.
WestJet said on 19 July that it was "encouraged by the government's announcements…that prioritize fully vaccinated travellers" and called the new policy a "significant and positive step forward".