Canada's WestJet will acquire low-cost vacation specialist Sunwing Airlines, along with its Sunwing Vacations tour operator business, shaking up the country's budget holiday travel sector.
"The transaction will bring together two distinctly Canadian travel and tourism success stories to deliver new travel options and greater value for travellers in the rapidly expanding leisure and work-from-anywhere travel markets," Calgary-based WestJet says on 2 March.
The deal, which is subject to regulatory approval, is due to close in late 2022.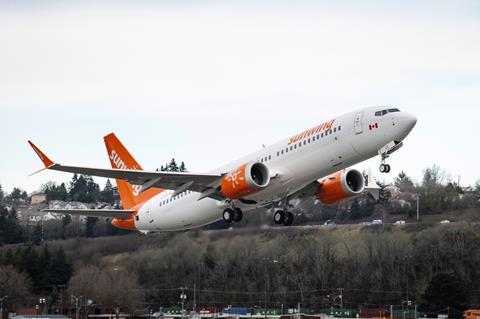 "This is an exciting moment for WestJet, Sunwing and Canada's travel industry," says WestJet chief executive Alexis von Hoensbroech. "This combination brings together Canada's two original low-cost carriers and positions us to accelerate growth in value-oriented travel, already the fastest growing segment of the airline market.
"It creates new opportunities for our people, our operational partners and supports the recovery from a global pandemic that has been particularly challenging for the Canadian travel and tourism industry including local airports and businesses we work closely with."
The two airlines have all-Boeing fleets, making integration seamless. According to Cirium fleets data, Sunwing Airlines currently operates 23 Boeing 737-800 aircraft and six 737 Max 8 aircraft. WestJet's fleet comprises of 77 737NGs, 14 737 Max and six 787 Dreamliner aircraft. It has four more 787s and 27 737 Max on order.
Sunwing Airlines will join WestJet while Sunwing Vacations, the company's tour operator business, will pair up with WestJet Vacations in a separate new tour operator business. The latter will be headed by Sunwing's current chief executive Stephen Hunter.
"We have a very promising future as part of the WestJet Group, which is one of the only airlines in the world that has not issued debt or equity during the pandemic, or accepted sector-specific government aid," Hunter says.
"The combination of their strong balance sheet and growth trajectory with Sunwing's unparalleled expertise in creating differentiated vacation packages will ensure the success of the new vacation division."
Sunwing adds that as a result of the transaction, it will no longer need the coronavirus pandemic-related Large Employer Emergency Financing Facility aid that it received from the government in early 2021. That aid will be repaid when the transaction is complete.
The acquisition is the second major airline consolidation in North America in as many months. In February, Frontier Airlines said it would acquire ULCC competitor Spirit Airlines in a $6.6 billion deal, also set to close later this year.