The government of Canada has approved WestJet's acquisition of Sunwing Airlines and Sunwing Vacations following a thorough review.
"The decision to approve this acquisition was not taken lightly, especially considering the delays and bottlenecks experienced by travellers last summer, as well as the customer service and communications challenges by Sunwing during the recent holiday season," Transport Canada said on 10 March.
WestJet had announced its plans to take over the low-cost leisure specialist just over a year ago, on 2 March 2022, shaking up the country's budget holiday travel sector. The carrier had expected the deal to close by the end of last year.
However in October, the country's Competition Bureau had raised some red flags, saying that the tie-up could bring "substantial lessening or prevention of competition in the sale of vacation packages to Canadians".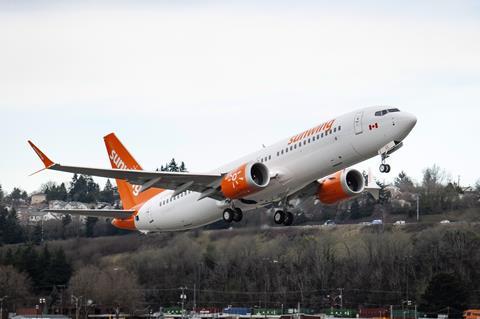 Now, Canada's transportation ministry approved the transaction anyway.
"In determining the proposed purchase is in the public interest, the government considered a broad range of factors, such as levels of service, social and economic implications, the financial health of the air transportation sector, and competition," it says, adding that there will be strings attached to the deal.
These include the requirement to extend Sunwing vacation package offerings to five new Canadian cities, maintaining capacity on routes most affected by the merger and improving the overall passenger experience. WestJet must also keep Sunwing's head office in the Toronto area – and increase net employment there by 20% over three years - and a regional office in the Montreal area for a minimum of five years.
"After considering the pros and cons, we have made the decision that will allow Sunwing to continue to provide affordable vacation packages to Canadians, create more good jobs, and protect current jobs as well as Canadians who have already purchased tickets," says transport minister Omar Alghabra.
WestJet welcomed the decision. "We are pleased that the regulatory review of the transaction is now complete," said Angela Avery, the Calgary-based carrier's executive vice-president, on 10 March.
According to Cirium fleets data, Sunwing Airlines currently operates a fleet of 40 aircraft comprising 25 Boeing 737-800, 14 737 Max and one Airbus 321 aircraft. WestJet's fleet is made up of 78 737NGs, 22 737 Max and seven 787 Dreamliner aircraft.
Sunwing Airlines will join WestJet while Sunwing Vacations, the company's tour operator business, will pair up with WestJet Vacations in a separate new tour operator business.
Sunwing suffered a major operational meltdown during the busy end-of-year holiday travel season as weather snared air traffic across North America. The Toronto-based company, like its US peer Southwest Airlines, had to scrambe to sort through the mess, leaving customers frustrated and angry. Canadian media reported that some of the carrier's passengers were been waiting to be repatriated from Latin American holiday destinations including Cancun for up to five days.