West Wind Aviation and Transwest Air will consolidate and rebrand as Rise Air to adapt to the travel downturn of the coronavirus pandemic and provide charter flights to western and northern Canada pending regulatory approval.
The Saskatoon-based parent company will merge its subsidiaries under one air operating certificate, West Wind Aviation Group chief executive Stephen Smith states.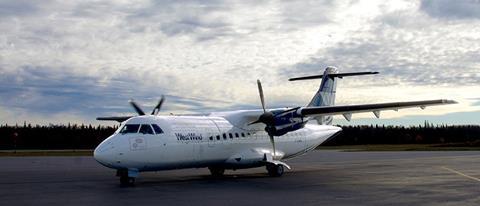 "Because we're bringing together two different companies that both have their own cultures and histories, we wanted something new and fresh but also wanted to preserve the legacy of both organizations," Smith says. "Keeping costs down is a priority for us, and we are planning to transition some things more organically as they need replacing."
West Wind, which operates from bases in Saskatoon and La Ronge, is employee-owned by members of Canada's First Nations. Smith has said there are no immediate plans to reduce the workforce in the combined company.
West Wind purchased Transwest in 2016 but it remained a subsidiary on its own operating certificate.
The combined fleet of Rise Air will consist of 43 turboprop aircraft from Transwest and two from West Wind, Cirium fleets data shows. The dominant aircraft type in the Transwest fleet is its eight De Havilland Canada-built DHC-6 aircraft, now produced by Viking Air, along with five DHC-2s and one DHC-3.
West Wind's fleet consists of two ATR 42 aircraft, and Transwest also has two ATR 42s.