Etihad Airways cut its full-year core operating loss to $476 million for 2021, aided by improved passenger demand in the second half and record cargo revenues.
The $476 million loss marked a continued step towards profitability for the Abu Dhabi-based carrier. It compares to $1.7 billion lost in the pandemic-hit 2020 and the $807 million loss for the pre-crisis year of 2019.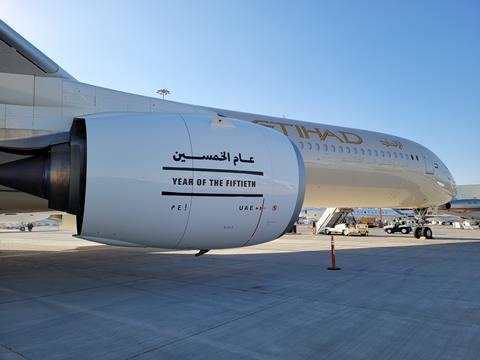 The cut in losses was achieved on revenues of over $3.1 billion. More than half the revenues came from Etihad's cargo business, which saw income climb nearly 50% on 2020.
Passenger revenues of just over $1 billion were still down 14% on 2020, but were bolstered by a strong second half. Etihad flew 3.5 million passengers in 2021 – 2.5 million of which flew in the second half. That, though, was below the 4.1 million it flew in 2020, which included mostly normal operations in the first quarter of that year.
Passenger load factor for 2021 stood at just under 40%, but climbed to a high of 70.1% in December as travel restrictions began to ease.
Etihad chief financial officer Adam Boukadida says: "Despite Covid-19 suppressing global travel demand for a second year running, we have continued to transform Etihad Airways into a more efficient business, delivering additional line-by-line savings and further optimising our cost base.
"Our record cargo operations have provided much-needed uplift, helping to more than double monthly operating revenue between January and December."
The restructured UAE carrier – which had been operating 106 aircraft as of the end of 2018 – had 67 aircraft in service in 2021. That includes 39 Boeing 787s and five freighter aircraft. It will in the second quarter launch services with its first Airbus A350 passenger aircraft, while it made a preliminary commitment for seven freighter versions of the latter at the recent Singapore Airshow.
Abu Dhabi authorities from 28 February further eased rules for vaccinated travellers in another sign of sign of a return to more normal operations.
Etihad group chief executive Tony Douglas says: "Despite the slowdown caused by Omicron, we are confident that the spring and summer season will continue to see a resurgence in travel as more people return to the skies."