Embattled Cathay Pacific Group significantly narrowed its losses in 2021, with its cargo business doing "exceptionally well" in the second half.
For the year ended 31 December 2021, the Hong Kong carrier suffered an operating loss of HK$1.4 billion ($184 million), compared with an HK$18.1 billion operating loss in 2020.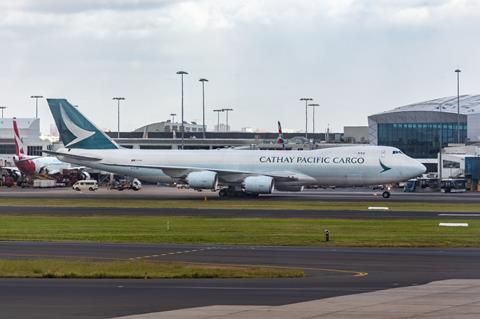 It also significantly cut net losses, at HK5.5 billion, versus 2020's record net loss of HK$21.6 billion. Cathay disclosed a net profit in the second half of 2021, at HK$2 billion.
Despite incurring impairment charges for aircraft retirements, as well as other restructuring-based costs, Cathay notes it has reduced costs.
Impairment costs for 2021 stood at HK$832 million, relating to 12 aircraft which it says "are unlikely to re-enter meaningful economic service before they retire or are returned to lessors". This is a significant reduction compared to 2020's hefty HK$4 billion impairment charge on 34 aircraft.
Revenues for the full year dipped 2.9% to HK$45.6 billion, as Hong Kong's tough travel restrictions continued to crush passenger traffic.
However, the airline group reported a 28% jump in cargo revenue to HK$35.8 billion, helped by a robust freight market.
"Cargo demand grew ahead of the traditional peak season in the second half of the year. In the months leading up to the end of 2021, we operated our freighter fleet at peak capacity, and supplemented our cargo capacity with additional cargo-only passenger flight operations," notes Cathay chairman Patrick Healy.
Cathay ended the year with HK$8.6 billion in cash and cash equivalents, slightly higher than the HK$6.2 billion it started the year with.
Despite the better performance in 2021, Healy flags an "extremely challenging start" to 2022, as Hong Kong battles a surge in Omicron cases, its worst ever since the start of the pandemic.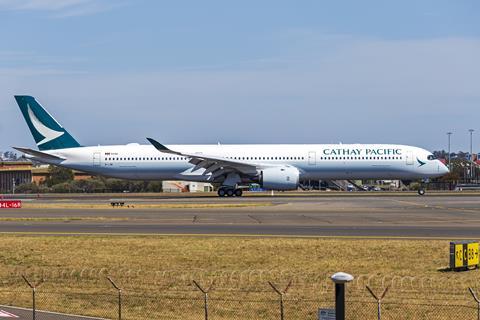 Strict quarantine rules, coupled with tightened border restrictions, meant Cathay is only operating at 2% pre-pandemic capacity for passenger flights — far below initial projections. Cargo, meanwhile, is only operating at a third of pre-pandemic capacity.
In comments made along with the release of the financial results, Healy did not state when the carrier might start reinstating capacity.
He notes: "We are trying our best to maintain our passenger and cargo networks as far as possible and will try to increase our cargo capacity as much as practicable."
The airline group — which also comprises cargo subsidiary Air Hong Kong and low-cost unit HK Express — ended the year with 234 aircraft, five fewer than the start of the year.