Turkish Airlines' profits outstripped pre-crisis levels in the third quarter as the carrier benefitted from a strong cargo performance.
The Star Alliance carrier's operating profit was 9% higher at $697 million for the third quarter compared with the same period in 2019, while its net profit was 12% above pre-crisis levels at $735 million.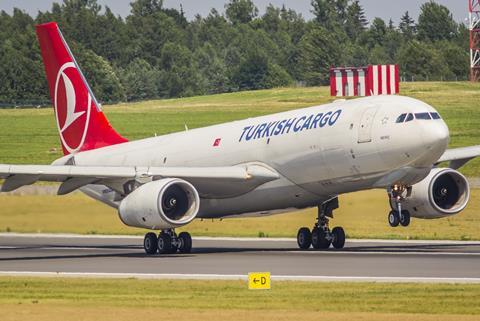 That was achieved despite revenues remaining 15% down on 2019 in the third quarter at $3.4 billion as international passenger operations remain disrupted.
Passenger revenues remain nearly a third down at $2.4 billion. Turkish Airlines though did lift passenger capacity from 56% to 81% of pre-crisis levels in the third quarter. That was driven by domestic capacity, which was 3% above 2019 levels in the the three months ending 30 September 2021.
While international capacity stands at 78% of pre-crisis levels, the airline is continuing to add back flights. For example, it has just announced plans to launch its first flights to Detroit and Seattle in the USA.
By contrast, cargo revenues more than doubled to $969 million for the third quarter. Alongside its fully utilised freighter fleet, the airline is deploying around 15 widebody passenger aircraft for cargo operations. That is five more aircraft than it was flying in the second quarter.
Turkish Airlines is on course to return to profit for the full year. Airline operating profits stood at €721 million at the nine-month stage, 61% up on the the same stage in 2019 when the group posted a profit of $585 million for the full-year.
It would mark a return to the black after an operating loss of $530 million in the pandemic-hit 2020.