A jump in cargo activity helped Kenya Airways offset lower passenger volumes during the first half of 2021, enabling it to shave a fifth off its losses for the period.
The SkyTeam carrier posted a pre-tax loss of KShs11.5 billion ($104 million) for the first six months of 2021. That compares with a loss of KShs14.4 billion at the same stage last year.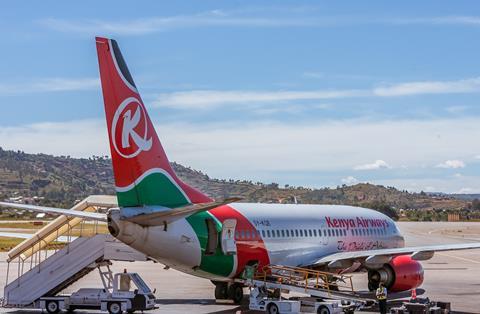 Total revenues for the first half fell 9% to KShs27.34 billion in 2021. That is less than half the KShs58.6 billion it reported in the first six months of 2019, before the crisis.
That reflects a 17% fall in passenger revenues as tight travel restrictions remained in place during the first half of the year. This though was partly offset as thw airline was able to boost its cargo revenues 60% during the same period. Cargo volumes were up a third during the period.
Kenya Airways chairman Michael Joseph says: "During the period, the company's main focus was, and still is, cash conservation. The company has exploited opportunities of raising much needed revenue through passenger charters and ramped up cargo operations.
"Other initiatives undertaken by management include partnerships with other airlines, lease rentals re-negotiations, payment plans with suppliers and partial deferment of staff salaries."