Caribbean Airlines is implementing cost cutting measures including salary reductions, temporary layoffs and reducing discretionary spending in order to preserve its liquidity through the coronavirus crisis.
With the cuts the carrier, headquartered in Trinidad and Tobago, says on 29 September that it expects to save $1.6 million monthly through the middle of 2021.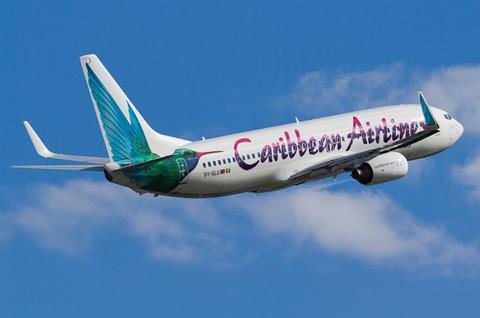 About one-third of the airline's 1,600-strong staff will be laid off for 90 days, Caribbean says.
"The airline confirms that standard industrial relations criteria were used to select the employees who will be temporarily laid off," the airline says. "The leadership team recognizes the impact of these measures on its employees and their dependents and has put systems in place to support those affected."
The salary reductions for remaining employees who earn more than $7,500 per month will begin on 15 October and go for eight months, through 15 June 2021. Benefits will not be affected, the airline says.
The airline adds that it will continue normal operations during this time.
"Caribbean Airlines assures all stakeholders that its current operations are not impacted by the temporary layoffs – this includes our cargo operations, the domestic air bridge between Trinidad and Tobago, the Kingston and Barbados based commercial services and special government approved flights to/from Trinidad and Tobago," the airline says.
Caribbean Airlines connects 22 cities across the Caribbean, Latin and North America with a fleet of six ATR 72-600s, ten Boeing 737-800s and has five 737 Max on order.