Cathay Pacific expects to cut its full-year net loss for 2021 — on the back of strong cargo performance as well as strict cost management measures — but flags a rise in cash burn following recently-tightened crew quarantine measures.
The embattled carrier — the subject of censure from the Hong Kong government over alleged crew quarantine breaches — forecasts a "substantial" net loss of between HK$5.6 and 6.1 billion ($719-783 million) for the year ended 31 December.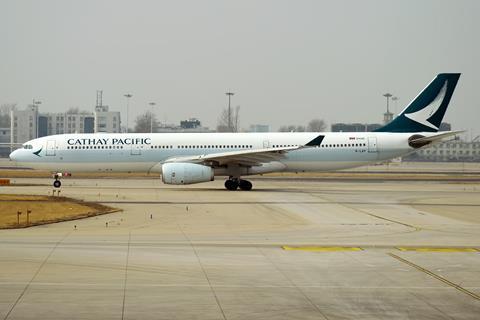 In comparison, Cathay posted a record net loss of HK$21.6 billion for 2020, as it took hefty impairment and restructuring costs.
Says the carrier: "The improvement was primarily driven by strong cargo demand, high cargo yield and load factors, together with continued focus on effective cash and cost management."
Cargo demand through 2021 kept steady with previous years, with the carrier carrying around 1.3 million tonnes of freight for the year. This was similar to 2020 levels and was down from 2 million tonnes reported in pre-pandemic 2019.
However, while cargo performance held strong, the airline notes passenger travel demand hit a new low, amid onerous travel restrictions in Hong Kong. For the full year, Cathay carried just over 717,000 passengers, 84.5% lower year on year. More significantly, the figure was just 2% pre-pandemic passenger numbers.
Cathay, which will be releasing its full-year financial results in March, adds that it managed to cut cash burn in the second half of 2021 to become "marginally cash generative".
Says airline chief Augustus Tang: "Having worked hard to tackle the challenges presented by the Covid-19 pandemic, taken decisive actions to create a more focused, efficient and competitive business and responded to strong cargo demand, we have reduced operating cash burn from the HK$2.5-3.0 billion range in the first half of 2020 down to marginally cash generative in the second half of 2021."
Still, Tang points out that recent restrictions imposed by Hong Kong amid a spike in Omicron infections have had a "significant impact" on operations.
Cathay had earlier announced sweeping cuts to both its passenger and cargo capacity, as tightened crew quarantine measures impeded operation.
At the start of 2022, Cathay was only operating at 2% pre-pandemic capacity for passenger flights. Cargo flights, the financial lifeline for the struggling carrier, saw capacity slashed to just 20%, from earlier estimates of 71%.
Tang expects these cuts to result in a rise in cash burn from February, to at least HK$1 billion a month.
"Until conditions improve, we are doing everything in our power to maximise capacity, and estimate that mitigation measures to increase crew resources will enable us to operate approximately an additional 5% more cargo flight capacity than we are currently operating," he adds.
Hong Kong has also threatened legal action against its home carrier for "non-compliance" of the city's strict quarantine measures. A recent outbreak has been traced back to Cathay air crew who were found to have breached home quarantine rules. The airline has since dismissed two crew members who tested positive for coronavirus.