Cathay Pacific has launched a pilot scheme that allows corporate customers to purchase sustainable aviation fuel (SAF) for passenger and cargo flights, claiming it is the first airline in Asia to do so.
By enabling corporate customers to contribute towards the purchase of SAF – which is currently several times more expensive than fossil fuel-based Jet A1 – such schemes give businesses a process for maintaining staff travel and air freight useage while meeting their own climate-change targets for emissions reduction.
Cathay Pacific does not provide details on the quantity of SAF available to the pilot Corporate Sustainable Aviation Fuel Programme today, but does note its target of network-wide SAF use of 10% by 2030.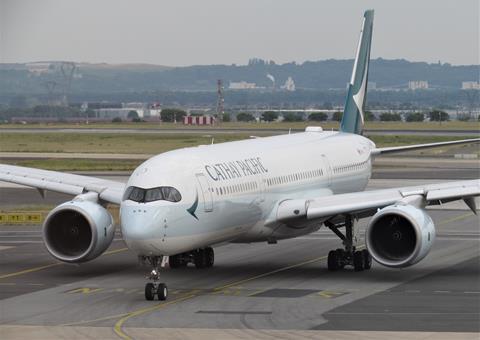 The SAF being used for the launch of the scheme is made from "used cooking oil and animal fat waste", the Oneworld carrier states, and will be delivered by PetroChina and Shell under existing agreements.
Cathay Pacific says the SAF will go through the "normal aviation-fuelling infrastructure" at Hong Kong International airport, "which provides important learning for developing ongoing regular SAF supply from HKIA in the future".
Launch customers for the carrier's programme are AIA, Airport Authority Hong Kong, DHL Global Forwarding, HSBC, Kintetsu World Express, PwC China, Standard Chartered and the airline's parent company, Swire Pacific.
Carriers and groups including Air France-KLM, Lufthansa and United Airlines have similar schemes in place.
The announcement of the programme comes as Cathay Pacific continues to heavily impacted by Hong Kong's Covid-related travel restrictions.
The airline flew around 30,000 passengers in March – just 1% pre-pandemic numbers – while its cargo tonnage was down 48% from 2019.