Cebu Pacific is hoping to rebound to profitability in the quarter to 31 March, though it remains wary of potential challenges including fuel costs.
In a stock exchange filing on 26 January, the low-cost carrier clarified news reports citing president and commercial chief Alexander Lao that it aims to make a profit and return to full pre-pandemic capacity by end-March.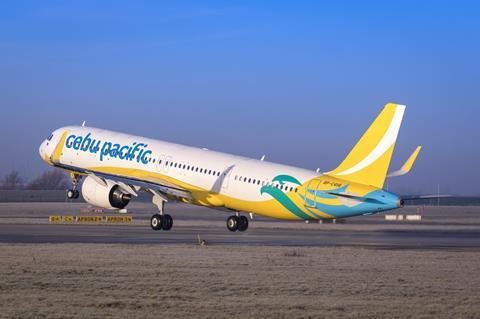 Lao confirms that the airline "hopes for a full-year net income", noting that the January-March quarter has traditionally been a strong period for airlines globally.
He stressed that the airline's return to profitability "will depend on a lot of factors", such as fuel prices, which are slowly inching upwards, as well as the strengthening of the Philippine Peso.
In the first quarter of 2022, Cebu Pacific reported an operating loss of Ps5.3 billion ($97.6 million) amid a surge in coronavirus infections in the Philippines.
For the rest of 2022, it gradually narrowed its losses on the back of a reopening of markets and an increase in demand from domestic and international travel.
In the latest filing, Lao also confirms that the airline has set aside Ps42 billion for capital expenditure in 2023, "most of which" will be used for aircraft-related expenses. Cebu Pacific expects to take delivery of 10 jets through the year, comprising three Airbus A320neos, three A321neos, as well as four A330neos.