Cebu Pacific Air is optimistic that more clarity around inter-city travel amid the coronavirus pandemic will boost domestic air traffic.
The low-cost carrier's chief strategy office Alexander Lao believes the Philippines was unique among countries in that different cities were able to impose their own restrictions in regard to inbound passengers.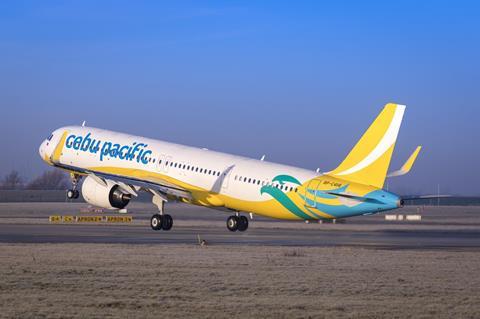 "We fly to over thirty cities, which had thirty different regulations," says Lao.
Lao is encouraged by new national regulations issued at the end of February, which streamline travel requirements around the country. Generally speaking, passengers will only need to pass symptom screening at the departure and arrival airports – although some cities might require a negative Covid-19 test 72 hours before departure.
Cebu Pacific has already seen forward bookings pick up. Still, it is not a clear path: Manila is in the midst of a two-week lockdown and the sprawling country's vaccination drive is still in its very early stages.
Lao notes that before the pandemic the airline operated some 400 flights daily. In June last year, when the country emerged from its first major lockdown, the carrier was operating about 10 sectors daily. This has since risen to 100, comprising both passenger and cargo services. Of Cebu Pacific's 73 aircraft, half are in storage either in Alice Springs, Australia or at Cebu Pacific hubs.
Load factors "are not anywhere close to pre-Covid levels," he says.
The dearth of domestic and international passengers is reflected in the airlines results. In the third quarter of 2020 overall revenues were down 69.6% from a year earlier. The carrier swung to a third quarter operating loss of P13.7 billion ($282 million), compared with a P9.7 billion operating profit a year earlier. As such, the airline has been focusing on cargo.
As for the potential impact of vaccinations, Lao says that the Philippine government aims to inoculate 50% of the population by the end of 2021. Cebu Pacific hopes that this prompts a domestic rebound similar to that underway in the United States, where vaccinations are making good progress.
As for international services, the airline has strived to keep key markets such as Hong Kong and Dubai open. Still, the recent surge in cases has prompted the Philippines to block foreigners from visiting the country, and limit arrivals to just 1,500 passengers monthly – although overseas workers are exempt.
Lao says that the airline is interested in retiring its legacy A320s. As for its orderbook of 56 aircraft, comprising 40 A320neo family jets and 16 A330-900s, Lao says the airline is still committed – although it has worked with Airbus to push back deliveries.
Lao is also bullish on the efficiency of the A330-900, which Cebu Pacific will equip with 459 seats. The aircraft will be deployed mainly at slot-restricted destinations, such as Hong Kong, Shanghai, and Shenzhen.
"We think slot constraints are going to come back in maybe three to four years," he says.
Until then, the carrier is well capitalised after recent fund raising exercises. And unlike other regional rivals, its orderbook is relatively modest.
"We're quite a conservative airline," adds Lao. "We don't order hundreds and hundreds of aircraft. Our growth profile is pretty conservative in that sense."