The 60-year-old Thai Airways International, now in court-supervised business rehabilitation, carries the burden of legacy issues, a history of failed restructuring and transformations, and being ill-equipped to tackle industry challenges.
The airline's losses widened in 2020, despite an increase in passenger numbers, and soon after the release of its results in March, company president Sumeth Damrongchaitham tendered his resignation.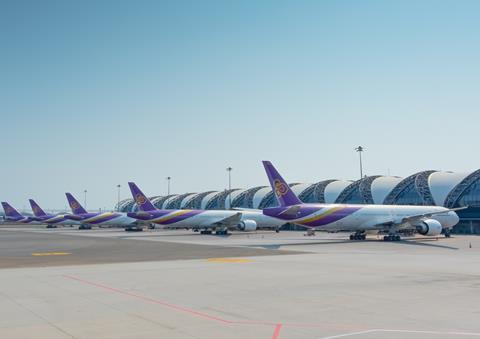 Meanwhile, the global Covid-19 pandemic forced the carrier to ground 69 of 82 aircraft and it said in March it was exploring ways to boost its finances.
Thailand's prime minister Prayut Chan-o-cha on 5 May signalled the government's willingness to help Thai Airways but, two weeks later, announced that Thai Airways would be placed in court-supervised business rehabilitation instead, after consideration of two other options: finding new funds to keep the airline operating, or allowing it to go bankrupt.
The prime minister highlighted, in a 19 May Facebook post, the need to "keep the nation's money" to directly help those affected by the pandemic.
The airline, he says, "exists to build [Thailand's] reputation and support the prosperity of Thais, and it needs to be strong enough to stand on its own feet and complete globally".
He adds: "I realise that this decision for the government not to finance Thai Airways risked the abandonment of more than 20,000 Thai Airways staff. I also do not want to see that. Under this court-supervised rehabilitation process, Thai Airways may continue to fly, and its staff still be employed, but importantly, it can now start a much-delayed restructuring of the airline."
Carrier battles legacy issues
Shukor Yusof, founder of aviation consultancy Endau Analytics, notes that Thai Airways has a long list of legacy issues which includes political interference, acquiring aircraft that do not meet its needs, the constant change in company presidents, and slowness in adopting new technology to streamline its business.
The Covid-19 pandemic, he says, exacerbated problems the airline was already facing.
"Without Covid-19, perhaps they wouldn't have the urgency or the need to go through such an extent of going into [rehabilitation]. While Covid-19 was something [unavoidable], I don't think it was the one that pushed them in. They were in trouble before this," Shukor told Cirium on 21 May.
Nevertheless, he believes it is positive that Thai is entering court-supervised rehabilitation now.
"For [the Thai government] to allow the national airline to be put into [rehabilitation] shows the willingness and the political will to take a hard decision for the betterment of the airline in the future," says Shukor. "They are doing this obviously to ensure that Thai Airways will be restructured successfully, and taking the opportunity of this pandemic when a lot of operations are at a very minimum."
On 25 May, Thai filed two stock-exchange disclosures detailing the reduction of the government's stake in the airline and the appointment of new board members.
In the first disclosure, the airline said Thailand's finance ministry had reduced its stake in the airline from 51.03% to 47.86% by selling a 3.17% stake to Vayupak Fund 1 on 22 May. This eliminated the carrier's previously-held status as a state-owned enterprise.
A second disclosure detailed the appointment of four new board members to replace previous members. One notable name appointed to the board is Piyasvasti Amranand, who was the airline's president between November 2009 and May 2012, and had a track record of profitability during that 30-month span.
On 27 May, Thailand's Central Bankruptcy Court (CBC) accepted the airline's application for business rehabilitation. A hearing is scheduled for 17 August. Once the court approves the application for the rehabilitation, an automatic "stay" will come into effect, restricting the ability of creditors to enforce any security or start litigation proceedings against the airline, and imposing a moratorium on creditors' rights.
Following the court's acceptance of the application, Thai disclosed in its 27 May stock-exchange filing that five people had been appointed to jointly hold the position of preparer during its business rehabilitation process. These include chairman Chaiyapruk Didyasarin and acting president Chakkrit Parapuntakul, along with three newly appointed board members: the former president Piyasvasti Amranand, Boontuck Wungcharoen, and Pirapan Salirathavibhaga. EY Corporate Advisory Services will also be involved in the process.
The five men and EY will have "the authority and duty in managing the business and assets of the company", said Thai in the 27 May filing.
A plan for success
Alan Polivnick, a partner at Watson Farley & Williams (WFW) in Bangkok, wrote in a 22 May article that the airline's competitors would pay close attention to the rehabilitation plan.
He notes that a critical factor "will be the extent to which the plan reduces the cost base for [Thai Airways]" by reducing the debt servicing level, renegotiating aircraft leases and other contracts, and cutting labour costs and the number of employees.
Polivnick says: "The extent to which [Thai's] cost base can be effectively and sufficiently reduced will depend on the extent to which commercial objectives and requirements take precedence in the rehabilitation plan.
"If the rehabilitated [Thai Airways] cannot compete with Thailand's low-cost carriers on costs, network and fleet, the rehabilitation is unlikely to result in [positioning Thai Airways] as a viable domestic airline in the medium to long term," he adds.
Brendan Sobie, an independent aviation analyst, questions whether the rehabilitation will succeed this time, as Thai has previously undergone restructuring and transformation programmes that "ultimately failed".
Thai's most recent restructuring took place when Charamporn Jothikasthira was airline president between December 2015 and February 2017. The airline's financial results show it was loss-making in 2015, 2018 and 2019, but turned profits in 2016 and 2017.
"The airline group has had a few brief periods of profitability following restructurings but has been unprofitable most years. The prior restructuring attempts did not go deep enough or address many of the underlying challenges," Sobie argued on 24 May.
What happens next for Thai?
Now that the Central Bankruptcy Court has set a hearing date for Thai's business rehabilitation process, the airline will need to address its weaknesses and plan for its future.
Shukor says Thai should cease flying to unprofitable destinations, remove aircraft that do not contribute to the airline's profitability, work more closely with its Star Alliance partners, and take advantage of Bangkok Suvarnabhumi International airport's hub position as a gateway to neighbouring countries.
Sobie believes Thai should accelerate the retirement of its older and less efficient aircraft such as Boeing 747-400s and 777s, as well as Airbus A380s. He also suggests that Thai consider retiring the A330s. By doing so, this will focus Thai's widebody fleet on three types: A350s, 777-300ERs and 787s.
Thai could also use the opportunity to grow its narrowbody fleet, as the airline has not placed any aircraft orders or taken any new aircraft in recent years.
"A smaller widebody fleet both in number of aircraft and average size of aircraft is necessary to compete in the post-Covid-19 environment," says Sobie, "but the narrowbody fleet, operated by Thai Smile, could expand as the regional subsidiary takes over more intra-Asia routes.
"Thai Airways could acquire second-hand A320ceos at bargain basement prices to supplement the 20 A320ceos already at Thai Smile or acquire new A320neo family aircraft, as well as evaluate smaller narrowbody options such as the [Embraer] E2 or A220."
Meanwhile, Polivnick of WFW sees a need for Thai to clarify the status and role of subsidiary Thai Smile, and to address its relationship with low-cost carrier Nok Air, in which Thai holds a 13.3% stake.
He says: "The rehabilitation plan should address Thai Smile's market position and role, particularly whether it should become an LCC, to compete more effectively with Thailand's LCCs, or remain a hybrid carrier. In current market conditions, it may be more effective for the rehabilitated [Thai] to begin operations with the Thai Smile fleet, product and cost base. This may allow [the airline] to compete more effectively with Thailand's other carriers.
"The rehabilitation plan will also need to address [Thai's] uneasy and ambiguous relationship with Nok Air. Absorbing Nok into [Thai] would eliminate a potential rival and provide the basis for a lower cost and more efficient operation. If this cannot be achieved, [Thai] will need to decide whether to remain a shareholder in an airline with which it will need to compete for passengers and traffic."
This analysis was written by Firdaus Hashim, part of Cirium's Singapore-based reporting team