Chile's competition authority TDLC has given the green light to LATAM Airlines Group and Delta Air Lines to implement their planned joint venture.
"The [TDLC] approved the [agreement] because it considered that the commitments and the obligations assumed by Delta and LATAM are intended to safeguard free competition in the markets concerned", it says in a note on its website on 28 October.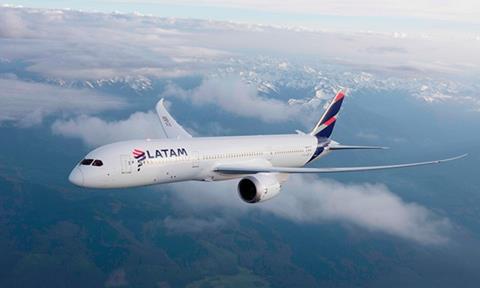 The ruling covers Delta Air Lines' minority stake in LATAM, a strategic alliance of the two carriers, as well as code-share agreements. It also allows Delta an "indirect participation…in the financing of LATAM in the framework of the reorganization process" of LATAM's Chapter 11 bankruptcy proceedings.
The airlines must still await regulatory approval of antitrust immunity for the joint venture from the US Department of Transportation (DOT).
Neither LATAM nor Delta immediately responded to requests for comment.
LATAM and Delta have been working on a trans-american joint venture since September 2019, when Delta announced it would be taking a 20% stake in the Latin American carrier worth $1.9 billion. At that time, LATAM said it would be leaving the American Airlines-dominated Oneworld alliance, of which it had been a member for 20 years.
That deal came after a Chilean court stopped a potential joint venture with Fort Worth-based American earlier that year.
In December 2019, Delta and LATAM said they would begin code-sharing for flights operated by certain LATAM affiliates in Colombia, Ecuador and Peru in the first quarter of 2020.
They signed a joint venture agreement in May 2020 and regulatory authorities in Colombia, Brazil and Uruguay subsequently approved the proposal.
The carriers applied to the US DOT for blanket approval to operate code-share routes within each others' networks on US-Chile routes, and also to third countries, in June 2020. That would allow the carriers to operate flights under each other's identification between, within and beyond the airlines' two home countries. The deal also covers flights operated by Delta Connection's US regional affiliates SkyWest Airlines, Republic Airways and Endeavor Air.
The two carriers had also introduced loyalty programme reciprocity last year, and they are co-located in the same terminals at two of their most important global hubs – New York City's John F Kennedy International airport and Sao Paulo's Guarulhos International airport.
LATAM is also in the midst of a reorganisation process. The carrier voluntarily filed for bankruptcy protection in May 2020 after passenger demand sharply declined as a result of coronavirus-driven lockdowns and travel restrictions. The carrier expects to present a reorganisation plan to a US bankruptcy court on 26 November.