China's three largest carriers plunged deeper in the red, as a surge in coronavirus infections comes to head with the country's strict 'Zero-Covid' strategy.
In their first-quarter financial results, 'Big Three' – comprising Air China, China Eastern Airlines and China Southern Airlines – blamed their losses on a collapse in domestic travel demand, coupled with rising fuel costs.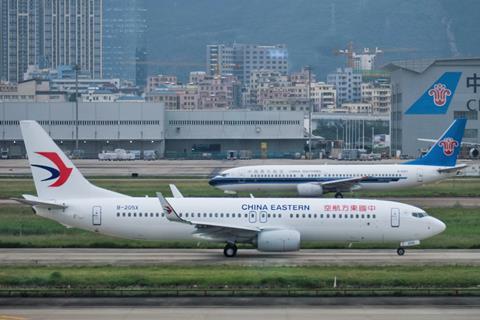 After claiming control over its domestic Covid-19 situation, China has in recent months witnessed a spike in infections, thanks to the more infectious Omicron variant.
Several cities, including the economic and political hubs of Shanghai, Beijing and Guangzhou, are either in strict lockdown, or are rolling out strict movement curbs to stem the spread.
These curbs have impacted domestic travel: the 'Big Three' saw traffic nosedive to the lowest levels in nearly two years, when the coronavirus was first discovered in Wuhan, China. Chinese authorities also expect a steep decline in holiday traffic during the ongoing Labour Day 'Golden Week'.
For the quarter to 31 March, Air China reported an operating loss of CNY10.5 billion ($1.6 billion), widening the CNY8.7 billion loss in 2021.
Its operating revenue fell 11% year on year to CNY12.9 billion, while costs remained flat at CNY23.1 billion.
The Beijing-based carrier recorded a net loss of CNY8.9 billion, compared to CNY6.2 billion in the first quarter of 2021.
Air China ended the quarter with CNY11.2 billion in cash and cash equivalents, lower compared to the CNY15.9 billion at the start of the year.
As for China Eastern, its operating losses widened to CNY8.3 billion, compared to CNY5.6 billion in 2021.
The Shanghai-based airline reported a 9.5% drop in revenue to CNY12.7 billion, while costs rose 6.9% year on year to CNY21.8 billion, led mainly by an increase in operational costs.
China Eastern's quarterly net loss widened significantly to CNY7.8 billion. This compares to the CNY3.8 billion net loss in 2021. Cash and cash equivalents at the end of the period held steady at CNY13 billion.
China Southern, meanwhile, was CNY5.9 billion in the red at the operating level, compared to a CNY5.4 billion operating loss in 2021.
Quarterly revenue rose just 1.1% to CNY21.5 billion, outpaced by a 3.8% rise in costs to CNY28 billion.
The carrier reported a net loss of CNY4.5 billion, compared to CNY4 billion in 2021. Cash and equivalents at the end of the period stood at CNY19.7 billion, lower than the CNY21.5 billion at the start of the year.