Some aviation analysts now think international air travel may not fully recover until 2025 or 2026 due largely to China's continuation of its travel-busting "zero-Covid" policy.
AeroDynamic Advisory managing director Kevin Michaels thinks China will not, any time soon, ditch its strategy of locking down hundreds of millions of people in the name of countering Covid-19.
"We don't see China changing its policy at least until the middle of next year," Michaels said on 7 September during the International Aerospace Innovation Forum in Montreal. "It's real issue that will be holding back the full recovery of our industry."
For that reason, Michaels thinks "international air travel or intra-regional air travel" will not return to 2019 levels until 2026. On the bright side, his firm estimates domestic air travel will fully rebound by the middle of next year.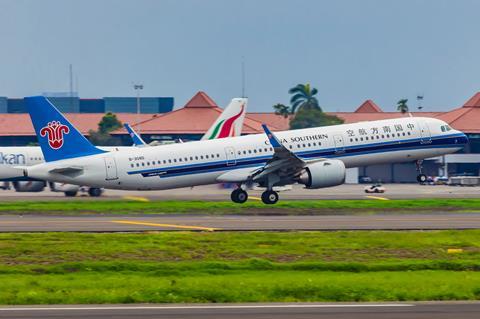 Various forecasting groups have in recent months pushed back expected recovery timelines for the global aviation industry.
In August, US group Global Business Travel Association changed from 2024 to 2026 its expectation of when the global business travel sector will fully return to pre-pandemic levels.
The group cited factors including lockdowns in China, inflation, soaring energy costs, labour shortages and supply chain troubles.
Chinese carriers had actually led the global air travel industry's recover in 2021 but have since fallen far behind. In recent months, China has locked down dozens of cities and hundreds of millions of people, according to various sources, stifling China's airline sector.
The combined passenger traffic reported for July by China's the three largest airlines – China Eastern Airlines, China Southern Airlines and Air China – was down 55% from July 2019, according to a report this month from financial firm Jefferies.
As a result, Jefferies anticipates air travel in the Asia-Pacific region will not rebound until 2025.
AeroDynamic's Michaels doubts China will end its lockdown strategy, implemented by President Xi Jinping, any time soon.
That is partly because Xi seems likely to secure, during a Communist Party meeting scheduled for October, a third term in office, lasting another five years. His ability to serve a third term became possible in 2018, when the National People's Congress dismantled a two-term limit.
On 7 September, FlightGlobal reported the extend to which China's zero-Covid strategy is holding back recovery of the Asia-Pacific region's broader rebound.
In the third quarter of 2022, airlines will operate only 864 flights between China and Southeast Asia, down from 43,000 in the fourth quarter of 2019, Cirium data shows.