Canada's Chorus Aviation turned a C$45.9 million ($34.2 million) profit in the fourth quarter of 2022 amid major strategic and leadership transitions, including the looming retirement of longtime chief executive Joseph Randell.
For comparison, the Nova Scotia-based company – which owns Canadian regional airlines Jazz Aviation and Voyageur Airways, as well as the recently acquired aircraft lessor Falko Regional Aircraft – made C$10.2 million during the final three months of 2021.
"The Chorus group of companies are all performing well," Randell said during the company's quarterly earnings call on 16 February.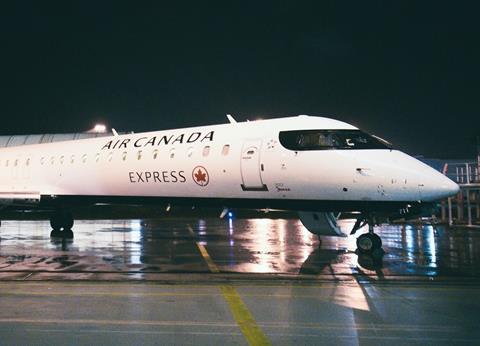 The higher profits reflect the inclusion of earnings from Falko, increased asset sales and revenue from leased aircraft, and a favourable foreign exchange rate, the company says.
Chorus generated C$440 million of revenue in the fourth quarter, a 27% increase compared with C$347 million in the three months ending 31 December 2021. Expenses rose 19% year-on-year.
For the full year, Chorus reports profits of C$51.9 million, compared with a C$20.5 million loss during pandemic-stunted 2021. Meanwhile, 2022 revenue amounted to C$1.6 billion, up 56% from the C$1 billion Chorus generated during the previous year.
Randell plans to retire early this year and is set to be succeeded by chief operating officer Colin Copp. Randell is stepping down from Chorus after a 37-year career in regional aviation.
"I'm very pleased to hand it to Colin Copp, whom I've worked with for over 22 years," Randell said on 16 February. "We've been working closely through the transition over the past few months and I'm more impressed than ever with Colin's talents and capabilities. He possesses a depth of knowledge across all aspects of our business."
The company is also revamping its leasing strategy. "We are transitioning our regional aircraft leasing business to an asset-light model, where we invest alongside third parties in aircraft funds and earn asset management fees and incentives for managing third party capital," Randell says.
For the full year, asset sales generated $152 million in US dollars, Chorus says. The company expects a further $50 million to $100 million in 2023 asset sales.
Looking ahead, Chorus anticipates 2023 revenue to be roughly in line with last year's results, as it forecasts yearly revenue between C$1.5 billion and C$1.7 billion.