Colombia's civil aviation regulator Aerocivil has approved a planned acquisition by flag carrier Avianca of financially strapped Viva Air, but has subjected the deal to several conditions.
Avianca has been pursuing Viva for almost a year, but Aerocivil rejected a proposed tie up plan last November. Then, in January, Aerocivil re-opened the case, citing "substantial irregularity in the processing of the administrative action in the first instance".
Viva ceased operations in February, blaming the regulatory delay.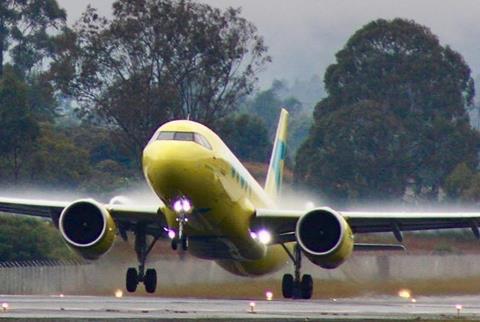 But on 21 March, Aerocivil said Colombia's Directorate of Air Transport and Aero-Commercial Affairs conducted another "detailed and technical study of the submitted request" and will authorise the merger, "conditioned on compliance with diverse structural and behavioural remedies".
These include refunding customers who had bought tickets on cancelled Viva flights, and allowing those who have tickets pending to fly. The carriers must also return some take-off and landing slots at Bogota, maintain Viva's low-cost options and increase frequencies on the Bogota-Buenos Aires route.
On 22 March, Avianca responded to the decision, saying it will "study the resolution as quickly as possible, as well as the implications of the measures set forth by the authority, to determine the feasibility of complying with them".
"In this context, it should be noted: Viva Air no longer has the same capabilities – route network, aircraft, workers – that it had before the temporary suspension of its operations, a factor that must be analysed in detail to determine the relevance of the conditions established," Avianca says.
The Bogota-based carrier adds that the decision may be appealed and that conditions are not final. "Until this happens, Avianca is not authorised to intervene in the operational or financial situation of Viva Airlines, nor will it be able to resolve, as required by the resolution, the situation of the users affected by the low-cost airline."
In recent weeks, LATAM Airlines Group and Chilean ultra-low-cost carrier JetSmart also expressed interest in acquiring financially struggling discounter Viva, viewing such a deal as a means to increase operations in Colombia as they jockey for position in the northern Latin American country.
In early March, LATAM said it repositioned five more aircraft to that country to capture demand created by Viva's operational suspension.
Then last week JetSmart said it signed a memorandum of understanding to purchase Colombian domestic carrier Ultra Air. Aerocivil had approved 27 domestic routes for JetSmart, which is in the process of gaining an operating certification in Colombia. The carrier serves 79 routes across Latin America and has operating certificates in Chile, Argentina and Peru.
Updates on 22 March to add a statement from Avianca.