Colombian discount carrier Ultra Air suspended all flights on 29 March, a move following news that the carrier was short of cash.
Ultra confirms the shutdown in a statement on its website but provides no additional information.
Colombia's ministry of transportation also confirms the operational halt. The carrier on 29 March notified the regulator that it planned to stop flying by midnight that night, says the transport ministry.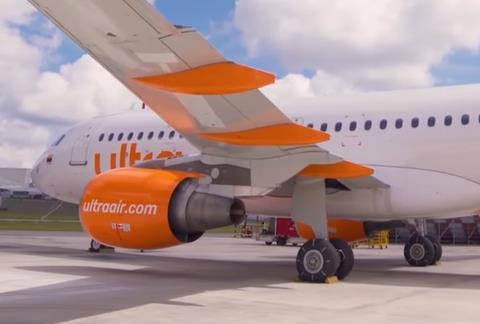 The shutdown comes after the regulator on 23 March warned that Ultra was at risk of defaulting on its financial obligations due to a cash crunch.
At that time, the transport ministry ordered Ultra to detail steps it was taking to maintain a viable operation. It also required Ultra, if needed, to implement a plan related to managing passengers affected by an operational halt, including by providing reimbursements or alternative travel options.
Ultra's fleet includes five Airbus A320s leased from companies including Ireland's Avolon, DAE Capital (a division of Dubai Aerospace Enterprise) and Kuwait's ALAFCO Aviation Lease and Finance, Cirium data shows.
The carrier had served about 15 Colombian destinations and had sizeable operations at Bogota and Medellin.
Until recently, Ultra had been working on a plan to be acquired by Chilean carrier JetSmart. Based in Santiago, JetSmart disclosed its acquisition plan on 16 March, though on 22 March the carrier said it had abandoned the effort.
"We have made progress in the process and consider that, due to various factors, it is not possible to continue with the intention to purchase Ultra Air and we have cancelled the letter of understanding and terminated the process," said JetSmart chief executive Estuardo Ortiz.