Comair's efforts to resume operations have been bolstered after competition regulators backed a consortium's proposed bid to acquire the South African carrier from business rescue.
In September a consortium comprising seven named individuals and an investment vehicle, Luthier Capital, agreed a rescue deal to acquire 99% of Comair.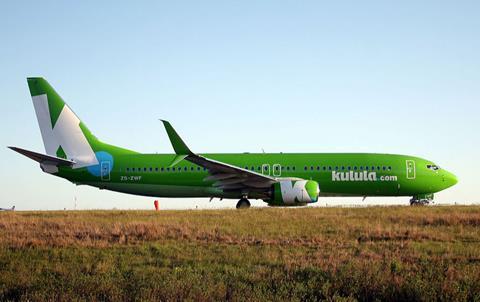 Comair, which operates a British Airways franchise and the Kulula low-cost carrier brand, entered business rescue in early May, the result of rising debt levels from a fleet renewal, exacerbated by the grounding of the Boeing 737 Max and the air transport crisis triggered by the Covid-19 pandemic.
But even before entering formal restructuring, the carrier had been grounded since late March due to lockdown restrictions. The consortium has been targeting a gradual resumption of services from December. Comair had been operating a fleet of 27 aircraft prior to the pandemic, which has been reduced to 23 aircraft during the business rescue process. The restructuring plan envisages the fleet being restored to 25 aircraft, including two Max aircraft.
In backing the transaction, South Africa's Competition Commission found no competitive overlap as the consortium, SA BidCo, has no commercial operations and is aimed at ensuring the long-term viability of Comair.
The Commission did though receive concerns relating to the deal's impact on employment. Under the planned acquisition, the consortium plans to cut Comair staff levels by around 200 to 1,681.
"The merging parties have committed to make offers of employment to all staff who have been retrenched as a result of the proposed transaction when jobs become available at the new airline post-merger," the Commission says, noting this applies for a three-year period after the resumption of flights.
The merged entity has also committed to allocate a proportion of its shares to a Broad-Based Black Economic Empowerment structure post-merger – which will include an employee share ownership programme.
The Commission says the conditions tendered by the merging parties are sufficient to allay public interest concerns and it is recommending the Competition Tribunal approve the transaction.
In reaching the deal in September, Glenn Orsmond – a former joint chief executive of Comair – in representing the Comair Rescue Consortium said it planned to resume air services in December with both the BA and Kulula brands.