Condor has confirmed its exit from 'protective shield' proceedings implemented to establish the former Thomas Cook subsidiary as a standalone company.
The German leisure carrier was placed under a first protective shield, which involved a €380 million ($455 million) bridging loan from the national government, following Thomas Cook's collapse in 2019. After a planned acquisition of the airline by PGL – the parent of Polish flag carrier LOT – was abandoned earlier this year amid the pandemic, Condor was placed under a second protective shield to "prepare for a future without Thomas Cook", the Frankfurt-based airline said at the time.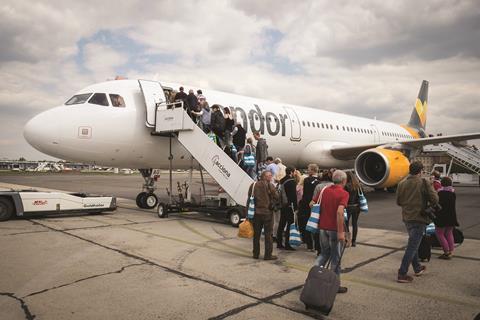 A €550 million loan was secured from the government in April, to refinance the initial, six-month bridging loan and help the airline through the crisis.
"Condor is leaving what is probably the most challenging time in the company's history behind it today and is beginning a new chapter," states chief executive Ralf Teckentrup. "For our customers and partners, this means that they can continue to rely on Condor."
He expresses gratitude for support from stakeholders, staff, and regional and federal-level politicians "who continued to place trust in us over the past 14 months", adding: "It was worth it. Today our future as a healthy company begins."
As part of the protective-shield proceedings, Condor underwent restructuring which "created a solid foundation for the future through numerous cost-cutting and efficiency measures", it says. This included "viable collective agreements and arrangements" with trade unions to facilitate "flexibility and efficiency".
The jobs of Condor's approximately 4,200 employees have been "responsibly" safeguarded until "at least December 2021", says the airlines. Efficiency measures included the move to a more cost-effective corporate headquarters.
For the time being, Condor's shares will be held by an entity named SG Luftfahrt – associated with restructuring and insolvency specialist Noerr – until a new investor can be found, Noerr told Cirium in October.
Lucas Flother, the administrator who oversaw the protective shield proceedings, states: "Condor is now much leaner and more efficient [and] is in pole position as soon as tourism starts up again."
Describing the restructuring effort as the result of "first-class teamwork", he adds: "All parties involved have done everything possible to save the company."