European Commission regulators have approved a €550 million ($595 million) loan from the German state to help struggling leisure carrier Condor through the coronavirus crisis.
Condor says the package, granted under the federal government's Corona Shield Programme, secures its flight operations after Polish Aviation Group (PGL) withdrew from its planned purchase of the carrier. Condor has been seeking a new investor following the collapse of its parent Thomas Cook Group last year and in October had required a €380 million bridging loan.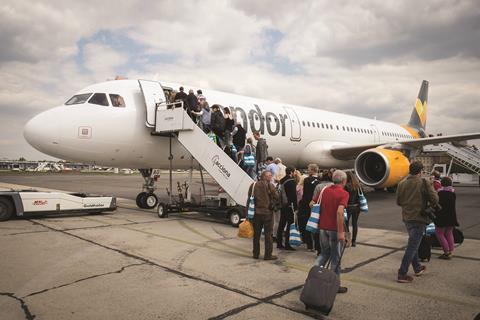 "Condor will receive a loan of €294 million as corona aid as well as €256 million to fully refinance the bridging loan that the leisure airline received for last winter following the insolvency of Thomas Cook," Condor says.
The German carrier says it applied for the guarantee in order to prevent liquidity bottlenecks caused by the coronavirus pandemic, which has grounded its holiday passenger flights, and to repay the bridging loan. That loan was to be paid back under the terms of the PGL acquisition agreed at the start of the year, but which the Polish carrier announced it was pulling out of earlier this month.
"As an operationally healthy and profitable company, Condor has gotten into trouble for the second time in almost half a year through no fault of its own - once by Thomas Cook and then by the effects of the Corona pandemic," says Condor chief executive Ralf Teckentrup.
"Even though the coming period will be a challenge, especially as an airline, we are confident that through the dedication, commitment and passion of each and every one of them we will continue to fulfil the trust placed in us," he adds.
The European Commission says the exact damage suffered by Condor as a result of the outbreak will be quantified after the coronavirus crisis, based on the airline's accounts for 2020. It notes the method used to quantify the damage will be subject to the Commission's prior approval and a claw-back mechanism will ensure any public support exceeding the damage incurred will be returned.
The Commission's executive vice-president Margrethe Vestager, in charge of competition policy, says: "This state-guaranteed €550 million loan will allow Germany to compensate Condor, operating in the particularly hard hit aviation sector, for part of the damage suffered due to the coronavirus outbreak. We co-operate with member states to find workable solutions to support companies in these difficult times, in line with EU rules."
The European Commission has already judged the coronavirus pandemic qualifies as an exceptional occurrence under European Union state aid rules, justifying "exceptional interventions" by its member states to compensate for damage linked to the coronavirus outbreak.
Lufthansa Group has also said it is in financing talks with the states of its various airline units, the biggest of which is German mainline operation Lufthansa.