Asset manager Attestor is to acquire a 51% stake in German leisure carrier Condor, investing €200 million ($244 million) in equity capital and providing a further €250 million to modernise the carrier's long-haul fleet.
The move secures fresh financial footing for the carrier after a period in which it has twice been under formal 'protective shield' proceedings, following the collapse of its former owner Thomas Cook Group in 2019 and then the breakdown of its planned purchase by LOT Polish Airlines parent PGL when the coronavirus crisis hit last spring.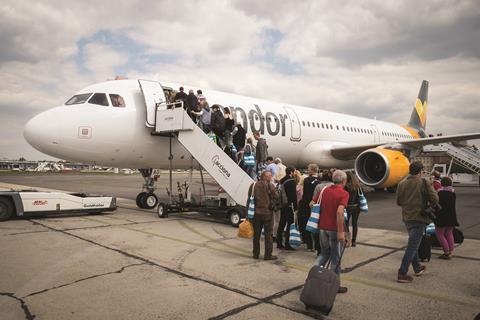 A restructured Condor emerged from its second protective shield at the start of December 2020, having undertaken a series of measures including moving to a more cost-effective headquarters and striking new labour deals with unions.
German investor Jan-Christoph Peters, who founded the €5.5 billion asset fund Attestor in 2012, says: "Condor is a strong brand with a proven business model in an attractive market.
"As the leader in the German leisure flight market, Condor is especially well-positioned to benefit when the tourism market picks up. After successful restructuring, the company's cost position is highly competitive."
Attestor will initially acquire 51% of Condor with the option to buy the rest of the shares at a later date. The remaining 49% is held by SG Luftfahrtgesellshaft, an entity which holds the stake on behalf of the German federal government and the state of Hesse. Germany provided a €550 million loan in April 2020 to support the carrier through the crisis.
"By investing in Condor, we are not only creating the foundation for a successful restart, but are also paving the way forward for the company's long-term development into Europe's leading charter airline," says Peters. "To this end, we will invest substantially to modernise the Condor fleet."
Cirium fleets data shows Condor has a fleet of 15 Boeing 767-300s and 13 Boeing 757s, just over half of which are in active service. It also has 21 Airbus narrowbodies.
Condor chief executive Ralf Teckentrup says: "We are proud that we were able to convince Attestor of Condor as a traditional company with a 65-year history of providing quality holidays and excellent service."
The airline ntoes that all 4,050 jobs at the airline and its in-house maintenance subsidiary Condor Technik will be retained.