Copa Holdings, the parent of Panama's Copa Airlines, says the first quarter of 2022 was profitable, but higher jet fuel prices will weigh on earnings during the next few months.
"Thanks to the recovery in demand following the impact of the Covid-19 Omicron variant, and despite higher fuel prices, Copa Holdings reported a profitable quarter," the Panama City-based carrier says on 11 May. "These results also reflect the company's ability to increase capacity while operating with low unit costs."
During the first three months of 2022, Copa says it earned a profit of $19.8 million, compared to a loss of $111 million in the same three months of 2021. In pre-pandemic 2019 the company posted a profit of $89.4 million.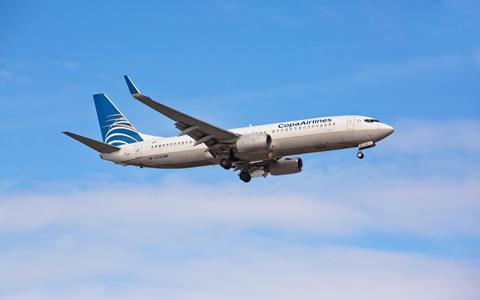 Revenue for the three months ending 31 March was $572 million, down 15% from $672 million in the same quarter in 2019.
Copa, which operates an all-Boeing 737 fleet, says it was forced to cancel 4% of its flights during the period due to Omicron-driven staff absences.
Capacity as measured in available seat miles (ASMs) in the first quarter was about 88% of the same quarter in pre-pandemic 2019. That's up more than four percentage points from the final quarter of 2021.
While it expects capacity to rise to 96% of second-quarter 2019 ASMs, Copa is mindful that higher jet fuel prices will weigh on earnings. The company adds that the three months between April and June are also traditionally low travel months.
For the full year, Copa expects to operate approximately 98% of 2019 ASMs.
During the quarter, the company took delivery of two Boeing 737 Max 9 aircraft, ending the period with 93 aircraft in total: 68 Boeing 737-800s, 16 Boeing 737 Max 9s, and nine Boeing 737-700s. Prior to the Covid-19 pandemic, the company had a fleet of 102 aircraft.
Copa Holdings will hold a webcast on 12 May to give more details about its earnings and outlook.