Copa Holdings, the parent of Panamanian flag carrier Copa Airlines, posted a fourth-quarter profit of $88.3 million as demand for air travel across the region rose.
For the full-year 2022, the carrier on 15 February reported a profit of $348 million.
"The company's financial results were driven by an improving air travel demand environment in the region, as it saw an increase in unit revenues which allowed it to offset the impact of high jet fuel prices, while it continued to operate with competitive ex-fuel unit costs," the company says.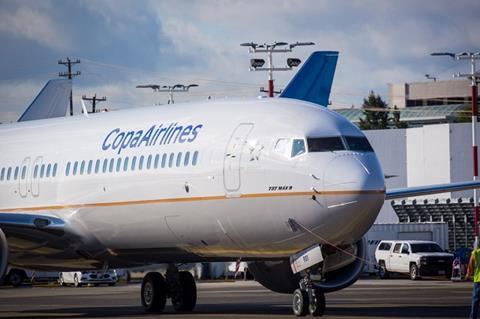 In the fourth quarter of 2022, Copa achieved revenue of $891 million, 31% higher than during the same period of pre-pandemic 2019. Passenger revenue came in 29.5% higher than in 2019, while cargo revenue was 69% higher. For the full year, revenue reached $2.9 billion, up from $2.7 billion in 2019.
Like its peers, Copa had to contend with higher operating expenses, especially a 63%-higher fuel price.
During the last three months of 2022, Copa took delivery of two Boeing 737 Max 9 aircraft, ending the year with a consolidated all-Boeing fleet of 97 aircraft: 67 737-800s, 20 737 Max 9s, nine 737-700s and one 737-800 freighter. One more Max 9 joined the fleet in January, and the airline is expecting one additional aircraft by the end of the first quarter.
Prior to the Covid-19 global health crisis, the airline's fleet comprised 102 aircraft.
Earlier this month, Copa said it would be introducing flights to Manta, Ecuador, Baltimore-Washington International airport, and Austin, bringing the total number of destinations the Panama City-headquartered airline serves to 80. All new flights are scheduled to start between June and July.
The airline will hold an investor call to expand upon the results on 16 February.