Brazil's Azul reported sharply higher revenue during the first quarter of 2022 as corporate travel increases and the company's logistics business thrives.
The Sao Paulo-based carrier says on 9 May it is now flying to 151 cities, 35 more than in pre-pandemic 2019, and planning to add more destinations.
"Over time, the growth from these new destinations will add considerable demand to our network, reinforcing our growth strategy," says chief executive John Rodgerson. "We ended the quarter with nine consecutive months of strong and improving leisure demand, while we saw corporate bookings accelerating rapidly, allowing us to raise fares to offset rising fuel prices."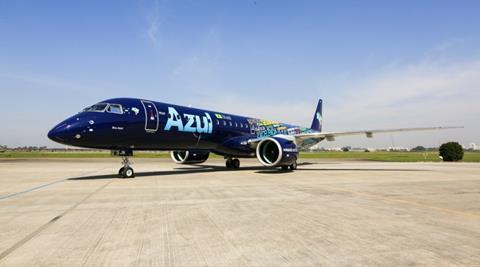 The company's operating revenue in the first quarter was R$3.2 billion ($630 million), up almost 75% from the same three months last year, and 26% more than in the first quarter in pre-pandemic 2019.
It was the second consecutive quarter with net revenue exceeding pre-pandemic levels, even with the impact of the Omicron variant in the early part of the period, Azul says.
Costs also rose, to R$3.1 billion, compared to R$2 billion in the first quarter of 2021. That 53% gain primarily results from a 57% increase in jet fuel prices and a capacity increase of more than 26%, the carrier says.
Azul posted a profit of R$2.66 billion during the three months that ended on 31 March, compared with a loss of R$2.65 in the same quarter last year.
Chief revenue officer Abhi Shah says Azul's revenue from corporate travel is "rapidly accelerating". In March and April, that revenue reached 126% of pre-pandemic 2019 levels, even with corporate travel volume down 29%. Average fares are 76% higher, he adds.
The oil and gas, agricultural and services industries are sending more employees on business trips, Shah says. Government- and financial services-related travel has not resumed in full force but is accelerating compared to 2021.
"The federal government is not flying as much as it used to but we think that's going to change this year, especially with the elections coming up," Shah adds.
The company's cargo business continues to grow rapidly, achieving sales of R$350 million in the first quarter, up 54% since the same three months last year. Compared to the first quarter of 2019, cargo and other revenue has more than tripled, Azul says.
As of 31 March, Azul had 178 aircraft, including 166 operated by the airline. The remaining 12 included six ATR turboprops subleased to TAP, three Embraer E-Jet E1s subleased to Neeleman-founded US start-up Breeze Airways, two E1s set to exit the fleet and one soon-to-enter service Airbus A330.