A US bankruptcy court has granted Chile's LATAM Airlines Group more time to present a restructuring plan, setting the new deadline on 26 November.
Earlier this month, the Santiago-based airline company had requested the extension.
"[The] request enables the continued progress in the negotiations with the interested parties for the purpose of agreeing on the financial and submission terms of its reorganisation plan for approval," LATAM says on 28 October. "This will allow it to successfully emerge from said process in compliance with applicable legislation in both the United States and Chile, considering the pre-emptive subscription rights of shareholders in Chile."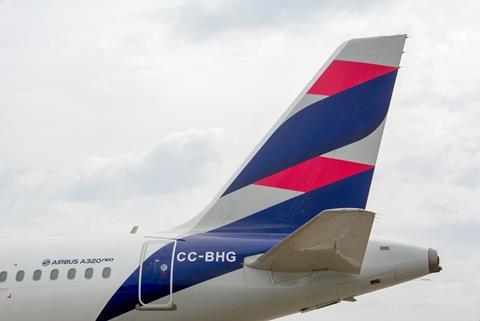 LATAM, like its Latin American peers Avianca and Aeromexico, voluntarily entered the Chapter 11 bankruptcy proceedings last year after the coronavirus pandemic suddenly decimated demand for air travel.
"Through Chapter 11, subsidiaries will be able to resize their operations and adapt them to the new demand environment and reorganise their financial balance sheets, allowing them to re-emerge as more agile, efficient and sustainable businesses in a post-pandemic stage," it says.
Both Mexico City-headquartered Aeromexico and Bogota-based Avianca have submitted restructuring plans and awaiting approval.
Aeromexico, which filed its plan on 1 October, has said it expects a court hearing to take place "on or around" 13 December.
Avianca's scheduled court hearing on 26 October resulted in a delay, pending further documentation to be submitted to the court this week. The plan seeks to wipe out $3 billion in debt and preserve more than 10,000 jobs.
The airline's managers seek to transition Avianca from a hub-and-spoke carrier to having an "efficiency-driven point-to-point schedule", chief executive Adrian Neuhauser told FlightGlobal earlier this month.