Cathay Pacific Group chairman Patrick Healy has highlighted the difficulties the coronavirus pandemic poses for planning airline operations.
The highly-contagious Delta variant of the virus is particularly challenging, affecting a number of key Cathay markets, including Mainland China, says Healy.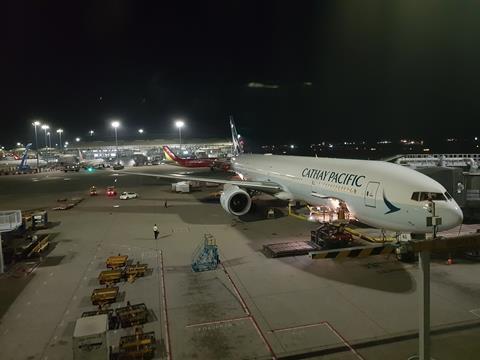 "It is extremely difficult to plan and operate with the constantly changing environment that we're in," he says.
"The one thing that is very clear, irrespective of the types of variants that we see with the virus…is the critical importance of vaccination rates."
Healy, speaking during an earnings call, says that Cathay has tried to set an example, with 99% of pilots and 91% of air crew vaccinated.
The Hong Kong-based airline group, which comprises mainline Cathay Pacific Airways, low-cost unit HK Express, and cargo unit Air Hong Kong had earlier reported an operating loss of HK$5.4 billion ($699 million) for the six months ended 30 June. This compares to the record HK$8.7 billion half-year loss it posted in 2020.
One bright spot in Cathay's earnings was cargo, where yields rose 24.4%, although group cargo revenue was flat owing to capacity constraints caused by a capacity shortfall. Given the strength in the cargo market, one reporter asked if Cathay was considering the developmental Airbus A350 freighter.
Ronald Lam, group chief commercial officer, says Cathay is cautious about the medium term outlook for air cargo. He points out that the cargo market is "distorted" owing to a supply/demand imbalance stemming from the shortage of belly hold space aboard passenger flights.
"We'll continue to monitor the situation and study the medium term impact," says Lam. "But at the moment, we haven't made any decision on investing in more freighter capacity for the medium run."
Also addressing cargo capacity, Lam's colleague, chief operations officer Greg Hughes, says that Air Hong Kong's fleet of A300-600Fs, with an average age of 17.2 years, continue to be replaced with A330s, either new-build freighters or conversions from passenger aircraft.
"The current decisions are that Air Hong Kong will ultimately be an all A330 freighter fleet," says Hughes.
Air Hong Kong's fleet of 14 aircraft comprises nine A300-600Fs, two A330-200Fs, and three A330-300Fs.
Hughes also touched on the oldest type in Cathay's passenger fleet, 17 Boeing 777-300s that had their economy cabins refreshed prior to the pandemic. The Rolls-Royce Trent 800 powered jets that were previously used for high-capacity regional work.
"We hope those aircraft will return to service as and when demand justifies it," adds Hughes. "They remain parked and haven't been disposed of, and can be returned to service as and when demand justifies them."