A new deal with US startup Joby Aviation could eventually make zero-emissions, last-mile air taxi services available to customers flying with Delta Air Lines through New York and Los Angeles.
Under an agreement disclosed 11 October, Delta is partnering with the electric air taxi developer to deliver home-to-airport transportation services for its customers. The deal includes Delta's $60 million investment in Joby, with a potential total investment of $200 million "as the partners achieve substantive milestones", Delta says.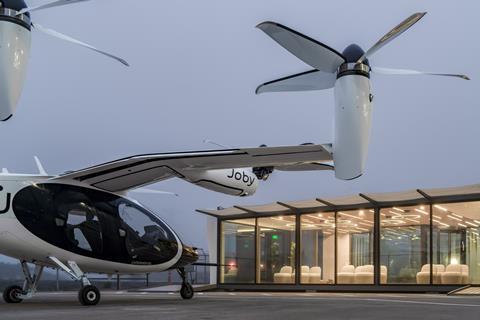 The deal represents a strategic shift for Delta. Whereas most major US airlines have already invested in the emerging market for electric vertical take-off and landing (eVTOL) aircraft, Delta had chosen not to partner with an air taxi company until now.
Delta anticipates that the launch of the air taxi service – the date of which is as yet unspecified – will represent the "first eVTOL service to market". The deal will be mutually exclusive for five years following the commercial launch of the service, which will exist alongside Joby's regular airport service in "priority" areas.
"We've found in Joby a partner that shares our pioneering spirit and commitment to delivering innovative, seamless experiences that are better for our customers, their journeys, and our world," says Delta chief executive Ed Bastian. "This is a groundbreaking opportunity for Delta to deliver a time-saving, uniquely premium home-to-airport solution for customers in key markets we've been investing and innovating in for many years."
The companies envision expanding beyond New York and Los Angeles and eventually offering Joby's air taxi service throughout the US and beyond.
In May, Joby received from the Federal Aviation Administration an air carrier certification under Part 135 rules, allowing it to operate commercial air taxi flights using small aircraft. The company is developing a four-passenger eVTOL aircraft with an eye on rolling out an eVTOL taxi service in 2024.