An overwhelming majority of pilots at Delta Air Lines have voted to strike after they did not reach an agreement with the airline's management on a new contract.
Pilot union Air Line Pilots Association, International (ALPA), which represents the airline's flight deck professionals, said on 31 October that more than 96% of members participated in the vote, 99% of whom authorised union leaders to call a strike, if necessary.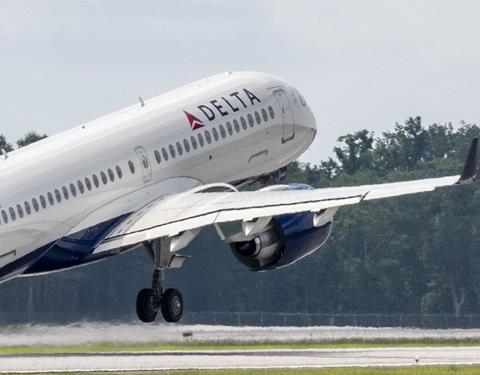 "Today, Delta's nearly 15,000 pilots sent a clear message to management that we are willing to go the distance to secure a contract that reflects the value we bring to Delta Air Lines as frontline leaders and long-term stakeholders," says Jason Ambrosi, who heads the Delta pilots' Master Executive Council (MEC).
"Delta has rebounded from the pandemic and is poised to be stronger than ever, posting record revenues for the third quarter. Meanwhile, our negotiations have dragged on for too long."
The Atlanta-based carrier says that the authorisation vote will not affect operations for the moment.
"ALPA's stated purpose for the vote is simply to gain leverage in our pilot contract negotiations, which continue to progress," the airline says. "There are many steps remaining in the process and many opportunities left for collaborative negotiations before a strike is even allowed to be considered."
It says the two sides have "made significant progress in our negotiations" and the company is "confident that the parties will reach an agreement that is fair and equitable".
Earlier this month, Delta said it was ahead of plan on profits for the year after posting record revenues of just under $14 billion for the third quarter.
The SkyTeam carrier's revenue performance was its highest-ever, beating the same quarter in pre-pandemic 2019 by 11%.
The airline posted an operating profit of just under $1.5 billion for the three-month period that ended on 30 September, while its net profit stood at $695 million. That though remains short of the $2.1 billion and $1.5 billion profit it earned by the same metrics in the third quarter of 2019.
But before a strike can take place, the National Mediation Board (NMB) must determine if further negotiation efforts would be productive.
If either of the two parties declines the arbitration, they enter a 30-day "cooling off" period, after which pilots and management can engage in what it calls "self-help". That would mean the union could decide to strike, or the company could lock them out.
Earlier this month, pilots at FedEx Express and the company's management said they will pursue federal mediation through the NMB on their contract negotiations. The Memphis-based cargo carrier has been negotiating with pilots since May 2021, and had expected to reach an agreement by May 2022.
Updates on 31 October to add a statement from Delta Air Lines.