Delta Air Lines swung to a $363 million loss in the first quarter of 2023 amid surging costs and despite generating record-high revenue.
The loss improves on Delta's $940 million loss in the same period of 2022 but comes after Delta ended 2022 on a high, with a $1.3 billion profit, the Atlanta-based airline reports on 13 April.
The carrier is the first major publicly traded US airline to report first-quarter results.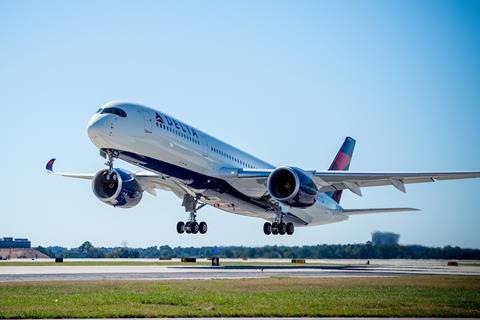 "We delivered record [first] quarter revenue, with total unit revenue that was 16% higher than the same period in 2019," says Delta president Glen Hauenstein. "These results reflect the strength in the underlying demand environment and continued momentum in premium products and loyalty revenue."
Hauenstein adds that Delta is logging "record advance bookings for the summer". The airline expects its second-quarter revenue will be up 15-17% year on year, with capacity up 17%.
In the first quarter, Delta generated $12.8 billion in operating revenue, up 36% year on year. But its operating expenses surged 29% in the period to $13 billion, with fuel expenses up 28% year on year.
It lifted capacity – in available seat miles – 18% year on year in the second quarter, to 61.4 billion.
The company says demand for business-travel bookings continues to rebound following the Covid-19-driven collapse of that sector.
Delta's sales of tickets to travellers working for small- and medium-size businesses "stepped up in the [first] quarter to fully recovered versus 2019 levels", the airline says.
Its first-quarter sales of tickets to larger "corporate" clients – with which Delta holds sales contracts –neared the 2019 baseline. Domestic corporate sales hit 85% of the 2019 figure and international corporate sales – excluding tickets to China, where demand continues lagging – reached 90%.
Delta remains optimistic about the rest of 2023, predicting its full-year 2023 revenue will be 15-20% greater than in 2022.
"We remain confident in our ability to deliver unit cost declines in the second half of 2023, while generating industry-leading operating margins of 10-12% for the full year," says Delta chief financial officer Dan Janki.