Pilots at Delta Air Lines have approved a new contract that will give them a 34% pay increase by 2026.
The Atlanta-based carrier's pilot union, Air Line Pilots Association, International (ALPA), said on 1 March that 78% of pilots had voted in favour of the contract, which includes more than $7 billion cumulative increases over the next four years. Of Delta's 15,000 pilots, 96% participated in the vote.
"This industry-leading contract is the direct result of the Delta pilots' unity and resolve," says pilot group chair Darren Hartmann. "Despite a two-year delay in negotiations due to Covid, we never lost sight of our goal to obtain significant across-the-board enhancements to our pilot working agreement."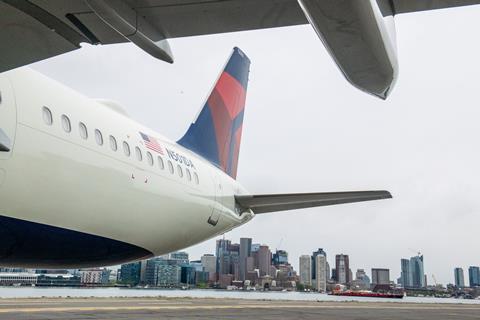 ALPA says 90% of pilots also voted in favour of a letter of agreement that "provides job protections for Delta pilot jobs against international flying by Delta's partners".
The union's contract with Delta had become amendable at the end of 2019, and the parties had negotiated under counsel of the US National Mediation Board. The airline and union reached an "agreement in principle" in early December last year. Pilots at the airline had, at the end of October, voted in favour of strike action if necessary in support securing new terms.
The new contract becomes effective on 2 March and will run through 31 December 2026.
Several major US airlines, including JetBlue Airways, Spirit Airlines and Hawaiian Airlines, and their pilots, have recently concluded new-contract negotiations that give flight deck crew handsome pay increases. The talks come amid a shortage of pilots and broader wage inflation.
Pilot pay at regional airlines has also risen sharply in past months – an attempt by regional carriers to attract more people to the career path, and keep them from moving on to larger mainline carriers.