Delta Air Lines has recorded its first quarterly profit since the beginning of the Covid-19 crisis, it said today, while warning of near-term concerns around rising fuel prices.
"Our September quarter marked an important milestone in our recovery, with our first quarterly profit since the start of the pandemic," says Delta chief executive Ed Bastian. "Our revenues reached two-thirds of 2019 levels thanks to the industry-leading operational performance our people delivered through a busy summer."
Bastian notes that demand continues to improve, but adds that "the recent rise in fuel prices will pressure our ability to remain profitable" in the last quarter of the year.
Nevertheless, the carrier remains on a path to "sustained profitability", according to Bastian.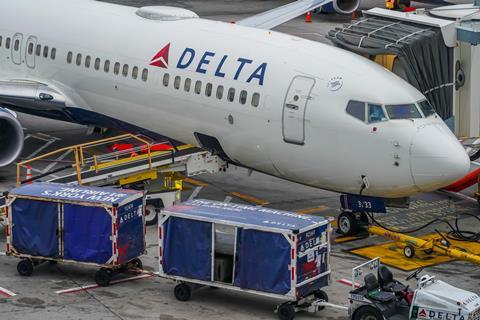 Domestic services and the Latin American market continue to lead the recovery, Delta says, while transatlantic "improved the most" during the third quarter.
Domestic revenue was 72% of that achieved in the same period of 2019, while overall international revenue was 42% of 2019 levels, with Latin America at 84% and transatlantic rising 20 percentage points from the second quarter to 35% of pre-crisis levels.
Delta notes that "premium cabins outperformed the main cabin in the most-recovered entities" and that corporate demand was stable "despite a delay in returns to the office". That delay came amid a spike in Covid-19 cases in the USA caused by the spread of the – unfortunately named – Delta variant of the virus.
Cargo revenue continued to improve on strong yields, Delta says, as it reached $262 million – a 39% increase on the same period of 2019.
Overall, Delta recorded adjusted pre-tax income for the third quarter of $216 million, it states, which excludes a $1.3 billion net benefit related to the government's payroll support programme.
Its adjusted operating revenue of $8.3 billion was 66% of that achieved in the same quarter of 2019.
It operated 71% of its 2019 capacity during the third quarter and expects to reach 80% during the final three months of the year.
Compared with its second quarter, yields were up 4% and load factors were some 11 percentage points higher at 80%.