Delta Air Lines returned to the black posting a $652 million profit in the second quarter, aided by $1.5 billion in US government Covid-19 support,
The Atlanta-based carrier's capacity and revenue remain significantly depressed from comparable 2019 levels, but in the second quarter the airline's finances turned positive for the first time since the fourth quarter of 2019.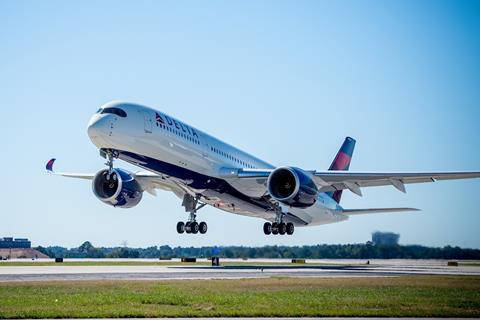 "Domestic leisure travel is fully recovered to 2019 levels and there are encouraging signs of improvement in business and international travel," Delta chief executive Ed Bastian says. "We are also opportunistically acquiring aircraft and creating upside flexibility to accelerate our capacity restoration in 2022 and beyond in a capital-disciplined manner."
Delta generated $7.1 billion in operating revenue during the second quarter, nearly five times its revenue in the same period of 2020. This though was still down 43% from the pre-pandemic second quarter of 2019.
The company's second-quarter 2021 operating expenses came in at $6.3 billion – though that figure was less than it would have been had Delta not secured $1.5 billion in grants via the US government's pandemic-related payroll support programme. Delta's second-quarter expenses were about the same year on year, but down 39% from the second quarter of 2019.
Delta's second quarter capacity, measured in available seat miles, was down 32% on two years prior. While its transatlantic and transpacific capacity is still nearly 70% below pre-crisis levels, Delta's domestic capacity is now down just 19% from the 2019 level.
Delta on 13 July disclosed plans to acquire 36 used aircraft, including seven Airbus A350s and 29 Boeing 737-900ERs. The airline will start receiving those aircraft next summer. In April, Delta ordered 25 A321neos.
Story corrected to note that Delta disclosed its plan to acquire used aircraft on 13 July, not 13 June.