Delta Air Lines is grounding 300 aircraft, representing about 30% of its 900-strong fleet, and cutting all flights to mainland Europe as the coronavirus cripples travel and grips the world.
The Atlanta-based airline says it will cut overall capacity 40% in the coming months, including all flights to mainland Europe. It is the largest reduction in Delta's history, including in the months following the 11 September 2001 terrorist attacks.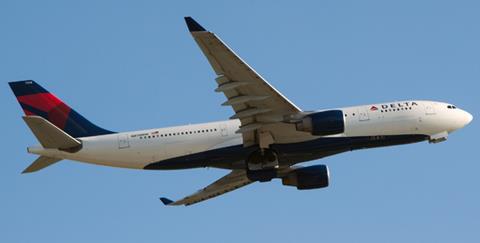 "The speed of the demand fall-off is unlike anything we have ever seen," writes chief executive Ed Bastian in a 13 March note to employees. "We are moving quickly to preserve cash and protect our company."
Bastian also says in the note that he is "foregoing 100% of [his] salary, effective immediately, for the next six months".
He says the airline is deferring aircraft deliveries and cutting discretionary spending on information technology projects, consultants and contractors, as well as offering voluntary unpaid leave to employees.
The industry is on a precipice of monumental proportion. Most major US airlines have suspended or reduced services to destinations in Asia, Europe and South America, and all have said they expect siginificant declines in revenue for the first half of the year. All major US carriers are allowing travelers to cancel and reschedule flights without penalty as a blanket ban on European visitors to the US begins at midnight on Friday.
"The situation is fluid and likely to be getting worse," Bastian says. He adds the airline is in discussions with the government "regarding the support they can provide to help us through this period."
Delta has 910 aircraft in revenue service according to Cirium fleets data.