Delta Air Lines is underpinning its partner airline strategy by investing a further $1.2 billion to retain significant equity stakes in Aeromexico, LATAM Airlines Group and Virgin Atlantic following their respective restructurings or recapitalisations.
The US carrier is already an investor in all three carriers and under the fresh investments detailed today plans to maintain its 49% stake in Virgin, while targeting a 20% stake in Aeromexico and a 10% holding in LATAM.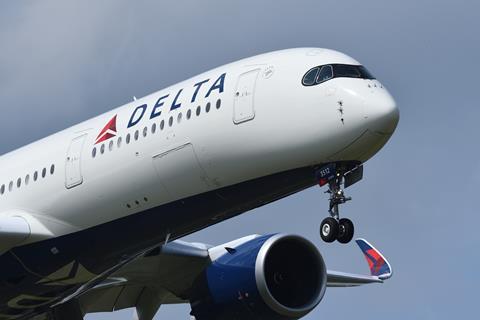 Delta chief executive Ed Bastian says: "The work each of our partners has done to strengthen their businesses for the future makes these partnerships even more valuable and creates a new era of international travel to benefit our customers, our employees and our investors as global travel rebounds in 2022 and beyond."
The SkyTeam carrier took a 49% stake in Virgin in 2013 as it launched a joint venture partnership across the Atlantic with the UK operator.
Delta and Virgin Group, which holds a 51% stake in Virgin Atlantic, will make a fresh £400 million ($530 million) investment in the UK carrier. Virgin had already in the summer of 2020 completed £1.2 billion solvent recapitalisation following the initial impact of the pandemic.
Virgin Atlantic chief executive Shai Weiss says: "Our story has been well documented during the pandemic. Together with our people, we have proven that we have what it takes to emerge a stronger airline. Throughout, our shareholders Virgin Group and Delta Air Lines, and our creditors, have been a source of unwavering support."
Bastian adds: "Virgin Atlantic's business has transformed, allowing them to emerge from the pandemic a stronger airline. Their distinct and vibrant brand will be reconnecting and delighting its customers for years to come."
Delta has been an investor in Aeromexico since 2012, later lifting that stake to 49% after embarking on a joint venture with its SkyTeam partner in 2017. Aeromexico has been working through a Chapter 11 bankruptcy restructuring since July 2020.
LATAM is the most recent of Delta's equity partners. The US carrier finalised a 20% investment in LATAM in December 2019, supporting a wide-ranging joint venture between the two operators. LATAM has also been undergoing a financial restructuring under a US Chapter 11 bankruptcy process since the summer of 2020.
Delta chief financial officer Dan Janki says: "Throughout the pandemic, Delta has continued to invest in our future, including new aircraft orders, accelerating real estate projects and putting significant resources into health and safety measures to protect our employees and our customers. Similarly, investing in our partners now – even as we continue to navigate the pandemic – is the right choice to support Delta's long-term strategy."
The carrier says there is no change to its investments in Air France-KLM, Korean Air and China Eastern.