Delta Air Lines intends to return all its pilots to "active-flying status" by October, part of the carrier's effort to prepare for returning to 2019 capacity by summer 2023.
"We're preparing to potentially build back to 2019 levels of flying by summer 2023. With that projection in mind, we will… begin the process to return all remaining affected pilots to active-flying status by October," Delta chief of operations John Laughter tells employees in a 26 February memo obtained by FlightGlobal.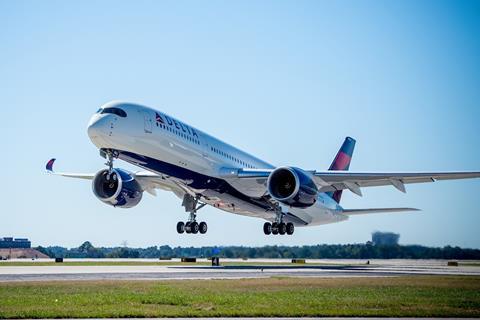 "This decision is a significant step to position Delta for the network recovery and supports projected customer demand," the memo adds. "We're seeing hopeful trends as the Covid vaccine rollout progresses, and we remain cautiously optimistic about travel demand and our recovery."
Pilots being shifted to active-flying status are those Delta had previously had placed in a "no-fly" category, the airline says. Pilots in that bucket remain Delta employees and receive guaranteed minimum pay but do not pilot aircraft, Delta adds.
At the end of 2020, about 1,700 of Delta pilots were in the no-fly group. The airline previously said that 400 of those pilots would be shifted to active status in January.
"Delta's teams have to build in time to train pilots on the aircraft needed to fly the planned increased flight schedule. This process takes several months," Delta says. "This move is to help Delta prepare for growth in future flying, as we look to anticipated customer demand in 2022 and 2023."
In December 2020, Delta's pilots approved an agreement that protected them from furlough until April 2022. The airline ended 2020 with 12,940 pilots.