Domestic sales boosted Brazilian airline Gol's first-quarter earnings as it finalised a codeshare agreement with American Airlines and launched a cargo collaboration.
"Our ability to emerge from one of the worst crises in the history of the airline industry as a more-competitive company with strong results is a testament to our flexible business model, which allows us to quickly adapt to current market dynamics," says Paolo Kakinoff, the company's chief executive, on the company's quarterly earnings call on 28 April.
Revenue during the three months that ended on 31 March doubled to R$3.2 billion ($640 million) from R$1.6 billion in the same quarter of 2021.
"Sales in the first quarter of 2022 surpassed the same pre-pandemic period in 2019 – particularly in March that saw 60% sales growth driven by a strong recovery in the corporate segment," Gol says.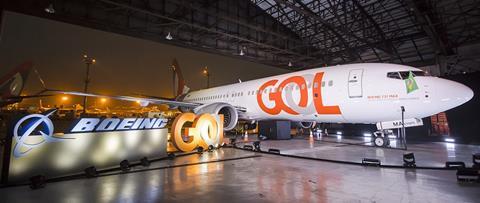 The airline posted a R$2.6 billion profit, as opposed to a R$2.5 billion loss during the same three months of last year.
Gol transported 6.7 million passengers between January and March, almost 50% more than one year ago, or 73% of the figure in the first quarter of 2019.
In the first quarter, Gol received eight new Boeing 737 Max 8s, as it continues transforming its fleet with more-efficient aircraft. By the end of the year the company expects to have 44 examples of the type, which will be about one-third of its fleet of 136 total 737-family aircraft.
By 2025, that number will be close to 50%, executives say.
"The [Max] is key to our long-term liquidity. This new aircraft drives more efficient operational results in addition to strengthening our balance sheet," says chief financial officer Richard Lark.
AA CODESHARE
Earlier this month, the airline finalised its expanded codeshare collaboration with American, executives say. That deal included a $200 million investment by American, representing a 5.3% share of the Brazilian airline.
"The new, exclusive partnership between Gol and American Airlines will further enhance the travel experience for our customers, primarily on routes connecting North and South America," says Gol vice-president of sales, marketing and clients Eduardo Bernardes.
The existing codeshare deal, in place since February 2020, already represented the largest route network in the Americas, he adds.
Kakinoff adds that the codeshare is a "high-value" proposition for Gol, and he expects "more to come".
"We envision several interesting possibilities coming out of our partnership with American Airlines," he adds. "We are more than satisfied…. with the bookings on the flights to Florida, I see potential for additional routes and markets."
GOL LOGISTICS BUSINESS
Gol also says on 28 April that it reached a 10-year agreement with Brazilian e-commerce company Mercado Livre and will be launching a dedicated freighter fleet of six cargo-converted Boeing 737-800Fs, with the option of adding a further six aircraft by 2025.
Gol expects the aircraft conversions to generate fleet optimisation savings of about R$25 million in 2022 and R$75 million in 2023, the company says.
Operations are slated to begin in the second half of 2022.
Gol's logistics unit, Gollog, "plans to enhance its range of services and increase tonnage capacity 80% through 2023, generating approximately R$100 million in incremental revenue in 2022, and more than R$1 billion over the next five years".
"We are pretty excited about this here, envisioning it leading to other opportunities," Kakinoff says.