The civil aviation regulator of the Dominican Republic has approved 30 routes for DW Dominican Wings SA, which will fly under the new brand name AraJet, formerly Flycana, as the first low-cost carrier based in that country.
The Dominican Junta de Aviacion Civil (JAC) said on 10 November that it approved the airline's new name and a network of flights of "services of regular and non-regular air transport of passengers in cargo, in international operations".
The approved routes will connect the country's capital Santo Domingo to the United States, Cuba, Colombia, Costa Rica, the Netherlands, Mexico, Panama, Aruba, France, Guatemala, Peru, Haiti, Canada and Trinidad & Tobago.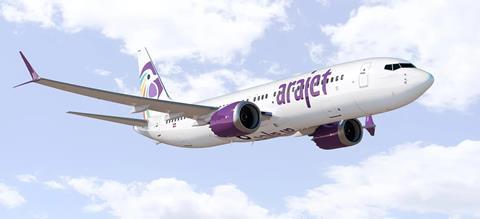 An Arajet official confirmed that it is the same company, flying on the same operator certificate. It applied for the name change in September.
The airline has previously said it plans to launch next year, and in its approval, JAC says the aircraft will initiate operations in January 2022.
Victor Pacheco, who is listed as the founder of Dominican Wings, tells FlightGlobal on 15 November that the start-up carrier will be operating Boeing 737 Max 8 and Max 8-200 – a higher density version of the Max 8 - aircraft on an "pure ultra low-cost model" within the Americas.
"The amount [of aircraft] will depend on the conclusion of our negotiations with the Boeing company," Pacheco says.
The aircraft will have 189 seats, he adds.
The only other airline currently operating the Max 8-200 is Ryanair, which was the launch customer of the type. Ryanair Group has 28 737 Max 8-200 aircraft in service today, spread across its mainline, Malta Air and Buzz units, Cirium fleets data shows.
AraJet's first aircraft is currently in the Boeing paint shop, Pacheco adds. He promises more information about the new airline "later on".
Flycana launched in 2018, and had aspirations to operate 32 jets by 2025. Santo Domingo's Las Americas International airport was to be its home base and its core network would have served destinations in North, Central and South America.