Eastar Jet is reportedly eyeing a comeback, with several investors apparently interested in buying the grounded South Korean low-cost carrier.
The company has received interest from "six or seven" potential investors, following the bankruptcy court's permission to undergo a corporate rehabilitation process, the Yonhap news agency cites chief executive Kim You-snag as saying.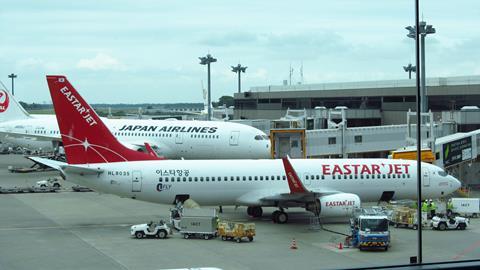 The potential investors will make offers in March and a new owner for the privately-owned carrier will be selected. Subsequent to finding a new owner, the carrier will apply for a new air operator certificate with the hope of restarting flights in June. Kim did not name the new investors.
In late 2019, prior to the coronavirus pandemic, Jeju Air announced that it would acquire 51% Easter for W69.5 billion ($62.8 million), which was reduced to W54.5 billion in March 2020. Jeju subsequently scrapped the acquisition in July 2020, citing the unspecified violation of key terms.
In a September 2020 interview with FlightGlobal, Jeju Air E-Bae Kim had this to say about the collapsed sale: "The [sales and purchase agreement] to Eastar was officially terminated on 23rd July due to the heavy risk caused by Covid-19 and the seller's failure to fulfil the terms of contract on time given."
Given that Eastar was loss making before the pandemic, it was unable to secure financial support from Seoul to see it through the pandemic. It has been grounded since 24 March 2020.
Cirium fleets data shows that Eastar has eight aircraft in storage comprising five Boeing 737-800s, two 737 Max 8s, and one 737-900ER. It also has orders for four additional Max 8s.