EasyJet expects to post a pre-tax profit in the range of £440-460 million ($541-566 million) for the 12 months ending 30 September 2023, driven by a record headline profit over the second half of its financial year.
But it has set out a medium-term target to deliver pre-tax profits in excess of £1 billion.
"This will be driven by reducing winter losses, upgauging our fleet and growing EasyJet Holidays." says chief executive Johan Lundgren. "As part of our commitment to shareholder returns, the board intends to reinstate dividends commencing with [the 2022-23] results."
In a trading update, the UK carrier says it made a headline pre-tax profit of between £650-670 million for the three months to September. That was achieved on passenger numbers up 8% and improved yields, as revenue per seat rose 9%.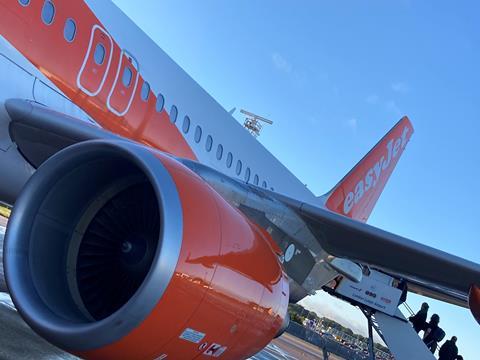 The strong quarter contributed to a record second-half headline pre-tax profit of between £850-870 million. That outweighs its £411 million loss for the seasonally loss-making period between October 2022 and March 2023.
"We have delivered a record summer with strong demand for EasyJet's flights and holidays," says Lundgren.
It says its holiday business outperformed expectations in delivering a full-year profit of £120 million.
The headline pre-tax profit of £440-460 million compares with a loss of £178 million for the year ending September 2022.
"This performance has demonstrated that our strategy is achieving results and so today we have set out an ambitious roadmap to serve more customers and deliver attractive shareholder returns, underpinned by a continued focus on costs and operational excellence," says Lundgren.