Embraer-backed air taxi developer Eve Urban Air Mobility Solutions has launched a collaboration with Kenya Airways to develop a market for electric vertical take-off and landing (eVTOL) aircraft in that African country.
Eve, headquartered at Embraer's Melbourne, Florida facility, will support Fahari Aviation, the unmanned aircraft systems (UAS) division of the Kenyan flag carrier, Embraer says on 11 August. The goal is to develop "a sustainable, accessible, and affordable transportation option" that could cut travel times 90% on routes such as between airports and city centres.
"This partnership will also allow Fahari Aviation to support Eve's aircraft and product development process, which will help guide the integration of [urban air mobility] with Kenya Airways' overall operations," Embraer says.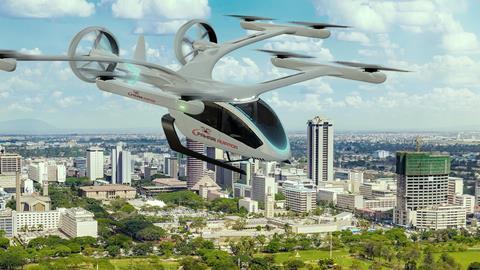 "With our aircraft and aerospace services backing and Kenya Airways' innovative approach to air mobility, we are enthusiastic about opening this region to more sustainable and community-friendly air access for all," says Andre Stein, Eve chief executive.
The companies did not give a timeframe for the project, but Eve has previously said expects its eVTOL to be in commercial operation by 2026.
Few details are known about Eve's eVTOL design, though computer-generated images of the concept show an aircraft with eight vertical propellers and two pusher props.
Eve came into being as a project of EmbraerX – the Brazilian airframer's technology development division. EmbraerX spun Eve into an independent company in 2020.
In June, Eve said it would provide Blade Air Mobility with up to 60 eVTOLs for use in the USA. In addition, Brazil-based helicopter operator Helisul signed for up to 50 eVTOLs, and Halo, a helicopter and UAM travel provider in the USA and UK, has ordered 200 of the aircraft.