Irish start-up Emerald Airlines has reached an agreement to begin flights under the Aer Lingus Regional brand from March next year, bringing forward a franchise agreement originally set to start in 2023.
Emerald Airlines was chosen to operate flights for the Irish IAG carrier from Ireland to the UK, Isle of Man and Jersey under a 10-year partnership from the beginning of 2023.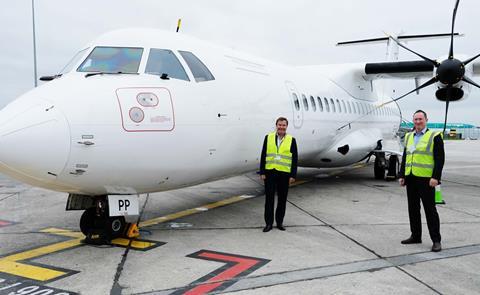 However, the incumbent franchise operator Stobart Air ceased operations in mid-June after a proposed acquisition of the carrier failed to materialise. Aer Lingus and British Airways' regional unit BA CityFlyer have since been operating the regional routes.
Emerald will now take on these routes, operating as Aer Lingus Regional, from 17 March next year.
Under the franchise Emerald will operate Dublin to Edinburgh and Glasgow up to four times daily, while also re-establishing links to Newquay and the Isle of Man.
Aer Lingus chief executive Lynne Embleton says: "It has been a pleasure to work with the team at Emerald Airlines to accelerate this partnership and start operations 10 months ahead of the original schedule."
Emerald secured its air operator's certificate in September and since agreed the lease of four ATR 72-600 turboprops.
Conor McCarthy, chief executive of Emerald Airlines, says: "We're delighted to be able to commence operations under our franchise agreement with Aer Lingus well ahead of plan in line with the recovering customer demand.
"The time is right for Emerald Airlines to begin operations under the Aer Lingus Regional brand, and we truly look forward to welcoming our customers on board our flights as soon as February next."
McCarthy says Emerald has also established an airline company in Northern Ireland and applied for a UK operating licence.
"We are very confident that this will result in long-term connectivity being maintained across the Irish Sea and will boost business and leisure travel between Northern Ireland and Britain," he states.
"We have already reached a long-term commercial agreement with George Best Belfast City Airport and look forward to connecting Belfast to many cities in the UK as soon as possible in 2022."